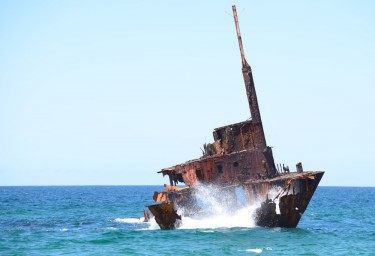 OK, so yesterday I wrote about all the rubbish on Stockton Beach. But it's not all rubbish and bad news.
There's also long stretches of white sand, dunes, sea birds, the deepest blue ocean, a shipwreck, and, bizarrely, houses in the middle of the dunes. The Stockton Beach sand dunes have been used for a few movie sets, so perhaps they're left over from one or another?
And – it was an opportunity to try out my new gopro.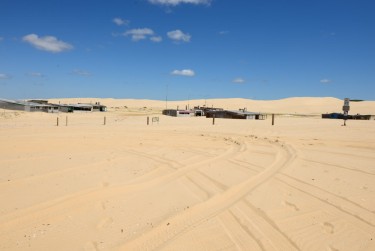 This is my first attempt using the gopro – and editing one!
I do have a film camera, and have made a few videos of some of our trips. Generally for me the most difficult part is getting some real action shots.
Doc is such a careful driver that it just doesn't look good on film. It's a constant battle – I try to egg him on so I can capture action– sand, mud or water flying – and he protects his car, and the environment.
Whenever he watches DVDs made by some of the professional 4WD teams he yells at the TV whenever they drive straight up to and go fast through deep water or mud. He says they're promoting irresponsible practices. I remind him they're making TV.
But this time, it was the editing process that was most difficult for me. At least the initial part.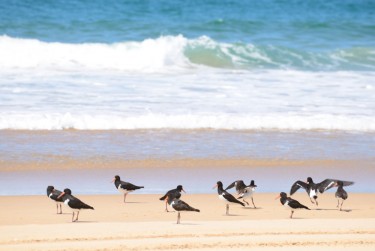 I'm not sure if it's me, but I found it impossible to trim footage on the computer using the gopro software. Clips wouldn't playback in real time, so what I trimmed ended up nowhere near what I thought I'd done.
I found I had to convert all clips first (took absolutely ages) then edit them (really quite simple), then convert the final clip back for upload (again took a long time).
And it took 8 minutes to upload a 49 second clip to youtube.
Not really a satisfactory process.
If it takes that long to upload in the city, with good internet access (well, good for Australia), how will it go when I'm outback?
I'm hoping it's me. I'm hoping that there really is an easier way to do this, and that somebody can give me a few tips. Anybody????
Anyway – here's my first attempt at making a video with my new gopro. I love the colour and the clarity of the footage!