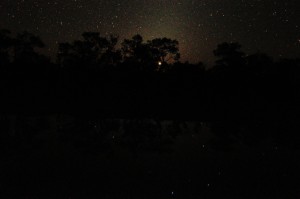 You have amazing, magical experiences camping that you just can't get if you stay in motels.
I'm one of those people who used to turn her nose up at camping. Too uncomfortable, not enough basic amenities (ie toilets), dirty, too many insects, and too uncomfortable. Yes, I know I said that twice, but really, camping is too uncomfortable.
Or so I thought.
Now I wouldn't want to go on holidays any other way.
I've written before about the romance of camping,and it's worth having a look at this again. But this time I'm going to write about some of my favourite camping spots. I've been to a few, and there's not many that I'd classify as bad (except in some of the caravan parks I've been to), but there are some that stand out from the rest.
Three of these are on the same road (sort of), so I'll start with them.
I camped here with a girlfriend on our great adventure to Uluru. There were a few other people camping along the river, but it didn't feel crowded (at least not until some idiot came and parked right next to us, but they only stayed for lunch). There was a lovely couple in a caravan "just over there" that we had coffee & chats with about all the places they and we had been to, and nobody else was within sight. There are even free showers in the park in town, which also has a beautiful rose garden. It was warm enough to leave the cover off the tent, so we could stay in bed & see the magical sunrise casting a golden light on the kangaroos feeding about 50m from us, and at the other end of the day could watch a million stars reflect on the still water of the river.
And a bloke from the council who was passing by stopped for a chat. Then he came back with fresh fish he'd caught and freshly made sausages that his brother-in-law the butcher had made. Where else do you get friendly people and service like that?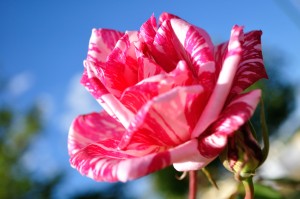 Barcoo River, just off the Jundah-Quilpie Road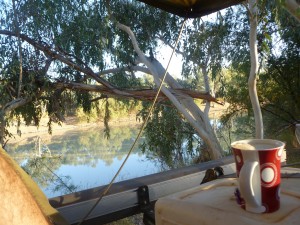 Doc and I stopped here on our way back from the Cape in 2011. It was getting late in the afternoon, and we were looking for somewhere to stop for the night. Just over the river crossing Doc spied a track heading off the road, so he took it. At the end of the track was an area where others had obviously camped before. It was next to the river, under the gum trees and had the remnants of a couple of campfires.
We decided that would do us and got out of the car. And that's where the magic started.
We found ourselves at a place where the river came to an 'end' creating a beautiful lagoon. And it was filled with birds. They were on the water, in the trees around the water, and flying all around. It was a bird haven. Even Doc deciding to cast a line didn't disturb them (as with the rest of that trip, he didn't catch anything).  We lit a campfire, cooked dinner and sat back and watched the sky and river darken.
In the morning I got up, stirred the embers to relight the fire, made coffee and took it back to bed and watched the river come to life through the white gums off our 'balcony'.
A short walk away we found a billabong where we watched an emu sitting & drinking. Then a family of six more emus wandered past. What more could you want?
By the side of the road near Carpet Springs between Quilpie & Eulo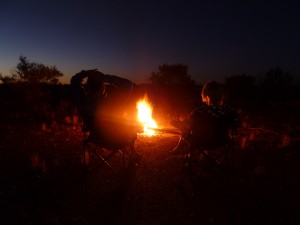 This wasn't even a real camping spot, just a place where we could pull off the road far enough that anybody driving during the night wouldn't run us over. There were no big gum trees and no river. Just shrubs and flat space. The omens weren't there for a memorable night (at least not good memories). Just shows how little you really can tell.
It was already getting dark when we pulled up, so while Doc set up the roof top tent I wandered around gathering dead scrub for a fire. Even that wasn't looking good until I lucked onto a few larger logs. Where they came from I don't know, but I wasn't going to ask any questions.
Then we sat by the fire and it turned into one of those nights where we just watched a million stars, had a few glasses of wine (well, I did), and talked for hours. The stars that night really were too good to leave.
And the next morning it was only a short drive to an amazing, totally unexpected experience in Eulo.
That's the first three. Tune in for part 2 tomorrow.