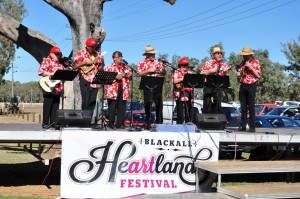 Blackall – despite warnings on the way up we had a fabulous time.
The Blackall Heartland Festival is quite unlike other outback festivals. There isn't a horse, cow, sheep or camel in sight. Except for the horse that Stewart rides to the camping area every afternoon that is.
Over the three main days of the festival there's an art exhibition, a photographic competition, a youth music festival, poetry slam, billy cart races and a barbecue cook-off. There are also local artists and artisans displaying and selling their work.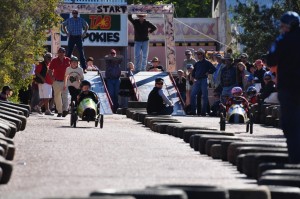 The Heartland festival is one of the festivals supported by Events Queensland in their "Make a promise to visit the outback" campaign.
I can see why.
The festival starts on Friday night with the exhibition opening and competition prizes being awarded, and a red meat showcase. Then it's across the road to poetry in the pub.
The billy cart races are held on the only hill in town – and probably the only hill for miles around. It seemed as if every kid in town had a billy cart, along with lots of the adults. Even Poppy had a go, racing against his 7 year old granddaughter. Even though she won the race, Poppy also won because he built both the billy carts. The local business community gets involved as well, building carts and racing against each other – a bit like F1, but on a smaller budget. Second place went to the local police with their Batmobile. Even though he felt like he was robbed (always a dangerous position to be in with the local police), as the local cop was the one handing out the prizes he decided to do the right thing and shake his own hand.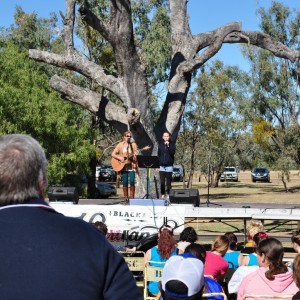 I wandered off to the festival at around 9am Sunday morning thinking I'd go over for a little while, then go and see other sites in town and come back to the festival later. At 4pm when everyone was starting to pack up, I was still there, and still talking with locals.
The entertainment went on all day, including BUMS (the Brisbane Ukelele Musicians Society) doing everything from Slim Dusty to AC/DC, local bands, singers and dancers. So many of the bands were doing their own music that it's a great sign for the Australian music industry. A stand out was 13 year old Jessica Mobbs who sang her own song called Beautiful to Me.
Then there was the barbecue cook off, a highlight every year. This year there were five teams competing, including a team from the local council (with one councillor in a bow tie), and one from the local footy team the Blackall Magpies.  The other three teams were made up of 2 sisters, and two husband and wife teams. The rules are pretty simple. They have an hour and a half to cook a dish of their choosing, which must be made with produce from the local sponsors. Of course that was lamb & beef, but there was also eggplant, corn, capsicum, tomatoes and zucchini. The local councilors did a fabulous vegetable stack with eggplant, zucchini, tomato and haloumi, alongside their sirloin.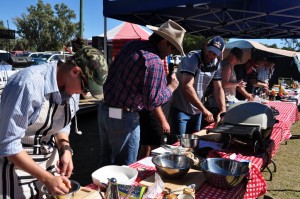 All meals are then tested by the judge (Dave), before being 'plated' and auctioned off for charity. The local councilors meal was bought by the Mayor who then donated it back to be auctioned again. There is a lot of community spirit here.
The winners were Nina and Tamara Hardie who did a lamb korma, with eggplant salad. In second place were Anna & Greg Scholes whose marinated cutlets were accompanied by a fabulous barbecued pear. The boys from the footy team narrowly missed out on a place. Their barbecued rack of lamb was cooked to perfection, but it seems boys are still boys (particularly country boys) when it comes to vegetables. If they hadn't mashed the vegetables all together and crumbed them they might have won.
I've seen so much creativity out in the outback that I'm no longer surprised by it. But what has been surprising over the past couple of days is the beautiful, fresh vegetables that have been available everywhere. And not just your standards either. Eggplant, zucchini, cauliflower, marrows and vine grown tomatoes have been available wherever we've gone. Last night I had vegetable skewers cooked over the campfire for dinner, with a glass of James Estate Semillon picked up in the Hunter, while we watched a million stars come out overhead.
Does it get any better than this?
Blackall Heartland Festival