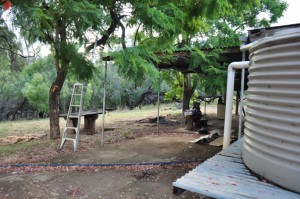 Finally, we're camping. Sort of.
We're in the sleeping bags on our bedrolls, but we're sleeping in a hut. And we've got a campfire, so I guess that makes it officially camping.
We left Goondiwindi this morning and drove to St George. As soon as Helen saw the sign "Fishing capital of Queensland" that was it. We had to stop so she could go fishing.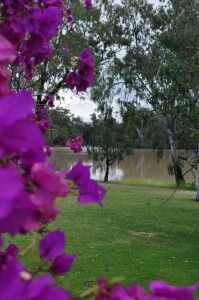 St George is (another) very pretty, very friendly, town in southern Queensland, on the river.  It has an amazing café/homewares shop with lots of interesting foodstuffs, where I found my favourite pasta, Bellata Gold lemon myrtle fettucine. They make it in Tamworth, or – so I'm led to believe – DID make it in Tamworth. It seems they're stopping production, because their costs – particularly transport – are just too high.
So I'm sending out a plea – if there's anybody who can save this pasta please, please do something. It really is beautiful pasta, and they even make kangaroo shapes!
But back to the trip. While it's much warmer in St George than in Goondiwindi and Tenterfield, it still gets very cold at night, and you can't camp in the cold without a campfire. That lets out camping in a caravan park and all along the river camping isn't permitted.
So we decided to start driving towards Mitchell and just find a spot beside the river to camp.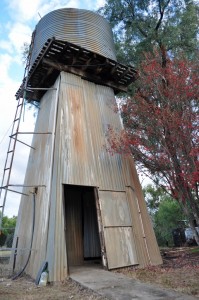 As I'm driving Helen's doing the navigating. Her version of navigating goes something like this:
"There's a blue line next to the road on the map, so that must be the river. It's just over there [waving her hand in front of my face] so turn right anywhere."
As all I could see on the right was trees, long grass and kangaroos I thought her plan was slightly flawed.
After a few kilometres we did come to a road on the right. A red dirt road that had been rained on. "Go down there" Helen said
"Um, that's a property." I said
"How do you know?"
"There was a mail box standing beside the gate" I responded "Besides, it's red dirt, which is now thick red mud, and my car isn't a 4WD."
Eventually we came to a real road on the right, and about 100 metres along it I could see a dip into what looked like the river. It was red dirt – wet red dirt – but it was gravelly so I chanced it. And we found a beautiful spot, with a flat grassy area for our tent right beside a running creek. But not a river – nothing that Helen could fish in.
We ummed and aahed, but decided to stay anyway. We pulled out the tent, spread it on the ground and were starting to put the poles together when Helen looked up over my shoulder and got a shocked look on her face.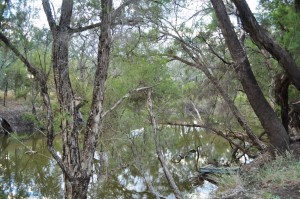 I turned around. There was a bloke walking towards us from out of the bush.
As he got closer I said "I thought we were alone here." He responded with the same.
Turns out he was the farmer who owns the property we were setting up beside, and he was out fencing.  After a chat he suggested that as it was likely to rain we'd be better off going and camping in the hut on his property. "Besides," he said, "the fishing is much better up there."
So here we are. And it's a beautiful spot.  Unfortunately for Helen she just found out that she's squirmish about using live bait so she's given up on the fishing for tonight.
She's sitting by the campfire with a glass of wine instead, just enjoying the view.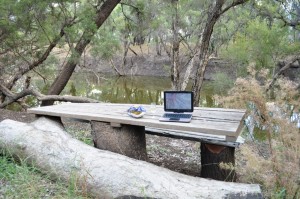 PS: It's now the next day and we're back in a service area. And it did rain last night – poured in fact. But more of that later.