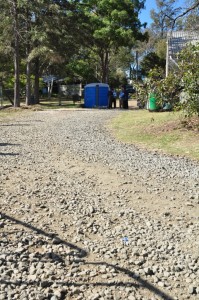 "You can't go in there – they're the disabled toilets."
Apart from the poor grammar, there are lots of arguments about whether "disabled" toilets are for disabled people only, or whether they're toilets that anybody – including those in a wheelchair – can access.
But there was no discussion at the Lovedale Long Lunch, and they had a security guard working the door to prove it.
For anybody who hasn't been, the Lovedale Long Lunch is a weekend where a group of 7 wineries, all in the Lovedale area of the Hunter Valley, join forces with local restaurants to put on a lunch – a loooong lunch.
For an admission price of $65 you get one main meal ticket, one dessert ticket and 5 wine tasting tickets. You can then travel from winery to winery, tasting wines and eating meals. Travelling in a group you can share the meals and so taste something at every winery along the way. For an additional $25 you can catch the shuttle busses travelling between the wineries so you don't drink and drive.
Each winery has music throughout the day, and also partners with other local food producers so you can taste and/or buy other local produce including olive oils, vinegars, and chocolate.
It's a great idea, and a lot of fun.
If you've been following this blog for a while you'll know that last year we ended the day dancing with stormtroopers, and watching Princess Leia throw up in the carpark.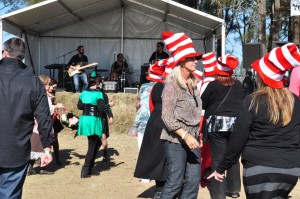 This year there were cats in the hat, mediaeval princes and knights, Al Capones, and a vast assortment of other characters.
And security guards stationed at the accessible toilets. Which made them not very accessible for most people.  There were other toilets, but they just weren't in the place to which the sign pointed.
But that was only a small part of a big day.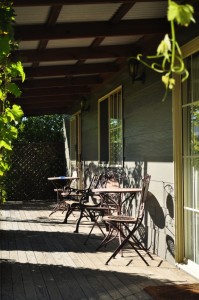 We started the day with a champagne breakfast at Wirral Grove, the beautiful house owned by Carol & Terry where we now stay every time we go to the Hunter. Carol and Terry are such good hosts that they even drove us to the first winery and offered to pick us up at the end of the day if we needed it.
They dropped us at Allendale Winery at 11am. It's the first winery along Lovedale Road and has one of the best sparkling wines in the Hunter.  They also had an 8 hour slow braised lamb shoulder – fabulous according to those of us who weren't vegetarians (all except me).  We then moved on to Tatler Winery, with a lovely Semillon and a beautiful baked wild atlantic salmon with garlic and chilli marinated prawns. Again – beautiful food unless you're vegetarian. Are you starting to see a pattern here?
While every winery offered a vegetarian option, it was generally just the vegetables or accompanying dish served with the otherwise very well cooked meal. Lucky there were good choices of desserts. The cannoli at Wandin was worthy of its place as the final dessert of the day.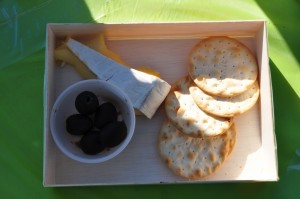 The most disappointing experiences were :
Having most wineries (except Allendale fortunately) not having their sparkling wines for tasting
Emma's Cottage winery, whose cheese plate (1 dessert ticket) was a small wedge of camembert, with 4 water crackers and 4 olives.
The best experiences were :
The 14 year old girl (whose name I didn't get), with the amazing voice singing at Tatler Winery. She is going to be huge!!
The couple working at the bus drop off/pick up point at Wandin who offered to (and did) drive us back to our accommodation because we wanted a cannoli and there weren't any more shuttle busses scheduled.
All up a fabulous day in a fabulous weekend, which started the day before with a tasting experience at James Estate. A big thank you to the girls there who took us through all the wines, and told us some of their tweetmeister Graeme Scott's closest held secrets. Shhh!
I just have to find space in the car to fit in all the wine!!!