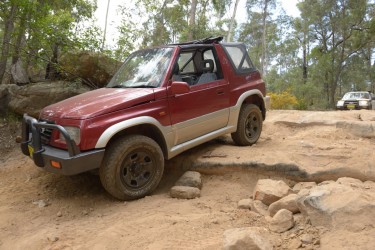 Drawers for the back of my Suzuki should be delivered next week, I've ordered the snorkel, and – most important – the fridge has been serviced.
It's finally happening – my solo outback trip.
It's not the 3 month trip to the Kimberley I was hoping for; my daughter's pregnancy has put that one on hold. But a 3-4 week trip through the Flinders ranges and up the Birdsville Track is a good second choice. And probably a more realistic ambition for my first solo trip.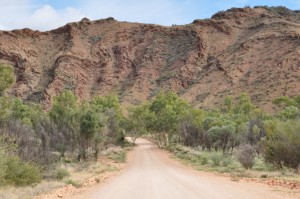 I was trying to do a trip planning map to put up here, but they're all pretty useless when it comes to plotting routes through the outback. Or maybe it's me. Whatever, I can't do it right now. Perhaps somebody can give me some tips on the best tools to use. And if you tell me google maps, please give me some pointers on how to use it properly. I can't even find the roads I want to travel on, let alone map them!
In a nutshell, here's my plan:
Wollongong (home) to Bathurst for lunch with a friend
Dubbo for my first overnight stop with a cousin. That's a big first day but as Doc says, the first day is driving all you can just to get "out". Though odds are I'll spend the first night in Bathurst.That's what tends to happen when I get together with my friends, particularly when I haven't seen them for a while.
Cobar to visit more family (I have a lot of family, in a lot of places)
Menindee & the Darling River for my first night (or two) out camping
Flinders Ranges to meet my sister for a few days and travel & hike through the Flinders. I've heard they're more beautiful than the MacDonnell Ranges, but I'll have to see that for myself. ( I haven't told you about this yet have I Eleanor)
Maree & the start of the Birdsville Track
Clifton Hills – if it's dry enough then the inside track to
Birdsville – (should I do a side trip to Boulia & try for the Min Min lights?)
Haddon Corner – my first corner
Cordillo Downs
Innamincka
Cameron Corner
Tibooburra – the town without a local government
White Cliffs – sleeping underground, amazing sunsets, and millions of stars
Cobar – visiting family again (and having a proper shower!)
Home
That's a 3-4 week trip, with lots of outback and good driving experiences. A combination of time with family & friends, and time outback with nothing but space and my own thoughts. And my camera of course.
But apart from setting up and servicing the car, there are a few other things to do first.
Get some more practice 4WDing for a start! And in putting up a tent.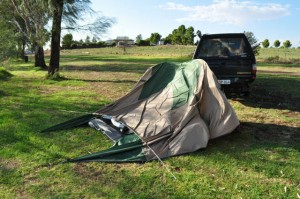 Doc and I are going camping on the Anzac long weekend – in my car! I need some practice, and to check the setup of the car and how it all works (or doesn't). It'll be our first camping trip in my car, which will be interesting. The first time we've been away where I'll be doing the driving. I'll let you know how it goes.
I also need to get more experience using the gopro properly so I can put up videos of my travels. I took some footage of us driving through paddocks, over rocks and up and down steep hills last weekend but it all looks quite boring and easy. Believe me it wasn't!
And I have two major contracts that I need to finish first, both of which should be finished by the end of June.
As soon as they're over, Doc and I are heading back to the Cape for around 5 weeks, then when we get back I'm off on my own (Doc has to go back to work aawww).
Which means getting two cars ready for long trips! A big ask, but I'm sure he'll do it.