Day 3.  215k into the Simpson Desert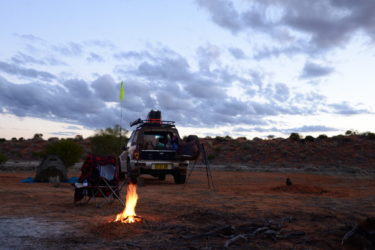 My how things change, and in a short space of time.
From being cruisy and not in a hurry to get anywhere, I was up before dawn this morning, and straight into packing up. I wanted to get onto the dunes while they were still cool, because that's the easiest time to drive them.
Though I wasn't in that much of a hurry that I couldn't relight last night's campfire and make myself a coffee. Which I enjoyed while watching the first pink rays of the sun appear over the dunes.
I was on the road at 7.23 this morning. Still not really early, but that was just as the sun was appearing over the dunes. Sunrise isn't too early either.
I've changed my course at the last moment twice today. And both times I paid for it.