Day 5. 337k into the desert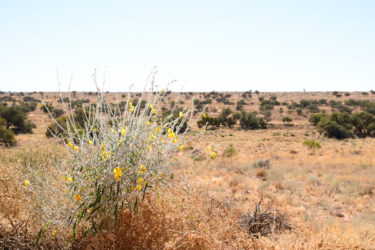 I've probably only got a couple more days in the desert so decided to make the most of this one and took my time this morning. I still got up just before sunrise, but I took more time to pack up and enjoy my morning coffee. And I went for a walk. Not too far, and keeping the car in sight, but I had a look around. And found more wildflowers. They are so small and delicate that you really do have to look for them. That's what I love about travelling slowly, taking the time to see these things.
I got on the road at 8.13am. Four hours and forty minutes later I'd travelled 20k and arrived at Poeppel's corner. Not because I was driving slowly, because I had to dig myself out of a hole twice, well three times actually. On the same sand dune!
Animals arriving in my campsite are not a good omen for the next day's travel!