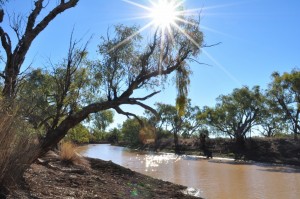 Update:
My apologies, it seems I had the wrong information. Christina McPherson wasn't Banjo Patterson's fiance.
The story is much more interesting than that.
Christina's friend, Sarah Riley, was engaged to Banjo Patterson, and had been for eight years. Right up until he met Christina and collaborated with her on Waltzing Matilda. The engagement was broken off soon after.
You can read more about Christina McPherson and her contribution to Waltzing Matilda here. The rest of the story stands.
For a place that's seared into the Australian psyche, Combo Waterhole is very little known – and very badly signposted.