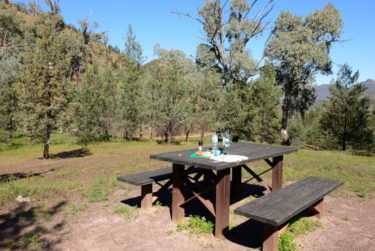 Who said you can't cook and eat well while camping?
When I started travelling with Doc his food requirements were simple – meat, meat, and more meat. All of which got cooked on a barbecue plate. If he wanted gourmet, then it would get a packet of some sauce or other poured over it. Sometimes he'd stop for a meal at a local pub, or a bakery for a pie. When we went to Cape York he did a fish & chips tasting tour (the best were in Cardiff).
But for me, being able to cook while camping and travelling outback is a necessity. I'm vegetarian so stopping for a pub meal is usually not an option. Not unless I want to live on chips and, if I'm lucky, side salad. Or unless the pub is the Prairie Hotel at Parachilna.