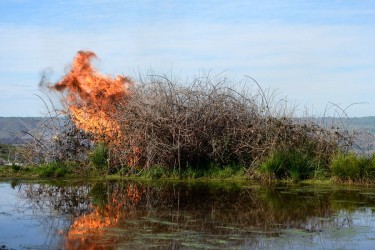 I finally got away for a weekend. No work, no nothing.
After a winter of working just about every weekend, with only enough time out to go 4WDing one day, we had a whole weekend to ourselves. Doc took Friday off, and we went out to stay on a property in rural NSW.
Just us, and lots of space.
Doc isn't the type to just sit around and soak up the silence, so of course he had to do something to try to help out on the property. He decided the best thing he could do would be to clean up some rubbish in the paddock next to the house. And the best way he thought he could do that was to burn the blackberry bushes that had been poisoned.
I'll say that again – Doc decided to set fire to the blackberry bushes in the paddock next to the house.
A bloke, a jerry can of petrol, and dead blackberry bushes. What could go wrong?