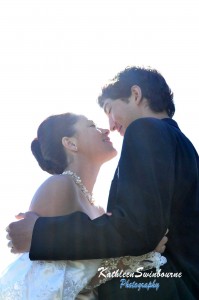 You put a lot of time and effort into making sure your wedding reflects your personality and style. You want your wedding photographer to do the same.
Some photographers come in with a list of photos to take – the same photos they take for every wedding they do. They might be nice photos, but do you really want the same as everybody else?
Remember your wedding the way you want to – not the way your photographer thinks you should
Kathleen Swinbourne Photography is a boutique photographic studio.  This means that everything we do, from first meeting with you through to handing over your finished photographs, can be designed to reflect your individual wedding experience.
Our first priority is you. At our first meeting we'll talk about the style of wedding and wedding photography you want, the things that are important to you to document, and how you want your photographs to look. Importantly, we'll also talk about how you want to display your photographs once you have them, whether you want a wedding book, small photos to display around the house or put into albums, something to put on a wall, or a combination of all of it. What you want to do with photos does affect the type of photos you want taken.
Our individual touch also applies to our pricing. We don't have wedding packages because everybody is different. After all, why should you have to pay for something you don't want? We'll discuss your desires – and your budget – with you before we come up with a price. Our pricing is very competitive, and can start from as little as $800.
With professional hairdressers and make up artists, we can help you with your whole wedding image.
Use the contact form to make an enquiry, or give me a call on 0412 158 314.
Sydney – South Coast – Southern Highlands
Other areas by arrangement.
For more information on wedding and portrait photography see Kathleen Swinbourne Photography