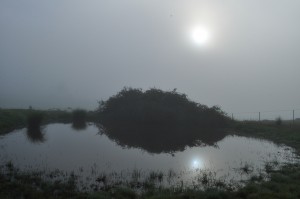 Doc and I have been out to the farm again. He's recently had an operation on his shoulder and can't do very much yet, so we decided to get away and just relax for a few days.
There's not a lot of work that needs to be done at the farm, so we could potter around doing nothing much. As it's winter and it gets very, very cold out there I was looking forward to taking some fabulous sunrise/frost photos. Unfortunately, in order to get photos of the sunrise you have to get up before sunrise, while it's still dark. That's very, very early. And it's very, very cold.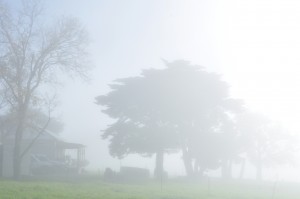 But I'm nothing if not dedicated, so when it was still dark I forced my eyes open and stuck an arm out from under the doonas (yes, that's plural – did I mention it gets very, very cold?). Brrr. Did I really want to do this?
Yes, I did, so there was nothing for it but to get out of bed.
As soon as my foot, still in socks, hit the floor I was wishing I'd worn my uggies to bed too.  I don't think I've ever got dressed so fast – tights, uggies, singlet, thermal jumper, jacket, scarf, beanie and gloves all on in record time.
I grabbed my camera gear and crept out of the bedroom, and out of the house to … darkness. No, whiteness. Did the zombie apocalypse happen while I was sleeping?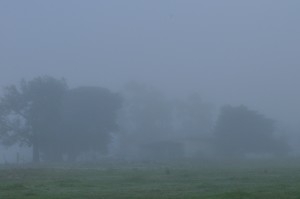 No, it was fog. Fog so thick I could hardly see the verandah steps in front of me.
But no frost – and no sunrise, not through that fog. It was too thick to even get moody shots of dead trees reaching out through the fog. To paraphrase – you couldn't see the trees for the fog.
There was nothing for it but to jump straight back into bed again until the fog lifts a bit.
Meanwhile, at the other end of the farm work was starting for the day. Farmers get up very, very early every day, even when it's very, very cold.  And on his way to work Sam snapped a photo of the sun rising over the top of the blanket of fog covering the farm
It's gorgeous – and I wish I'd taken it myself.