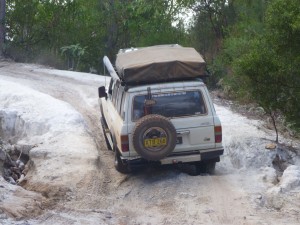 Doc is a typical bloke and loves shopping. At least if tools or cars are involved. Yesterday he found a great bargain on-line. 35 4WD DVDs for only $50. A saving of $450, and they were only just down the road! That's the bloke equivalent of shoe shopping!
So guess how we spent our afternoon.
Hours of Roothy, Carlisle, Hasbeen, Rocket Rod, Graham, and all their mates, having boys own adventures in their 4WDs.  With a camera crew tagging along capturing it for posterity.
I really enjoy watching some of these shows, but some of them just make me angry. When I get angry I start talking to the TV (that's talking, not screeching or shouting as Doc says). When I get really angry I storm off in a huff muttering "I can't watch this shit."
So what are the good things about these shows, and what makes me angry?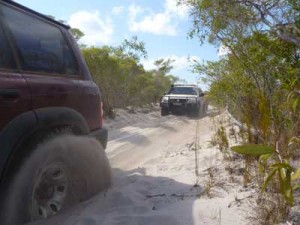 What makes me angry:
Maybe it's the photographer in me coming out, but I hate how they pretend their camera and production crews aren't even there. "Just 4 cars and 5 blokes having an adventure on Cape York" one of the DVDs explained. Judging by camera angles there were at least 4 camera crew with them as well, and 1-2 other vehicles. That's one thing that Top Gear does well. They admit that they're followed by a camera crew, but they also let you know the rules – the crew don't interfere or help out if something goes wrong. Unless it goes really, really wrong, which is always a possibility. Luckily they carry lots of gaffer tape for Jeremy Clarkson's mouth!
Big splashes make better TV, but not good 4WDing. Even Doc winces when they drive straight up to a creek and gun it across, spinning wheels and splashing water or mud higher than the car. Having cameras in position to film it all means they would have had to have stopped first, and somebody probably walked across the creek to test the depth, firmness of the bottom, and angles of entry and exit, to find the best place to cross. But you wouldn't know it from the footage, or the commentary. People use these shows to get some tips on 4WDing and adventure travel. There are some places where you can make big splashes, but sometimes it's good to demonstrate a bit of caution.
Umming and aahing in the lead car at creek crossings, mud or other difficult terrain, building up suspense about how hard it is (in case you missed it, that's a double entendre), and then taking the credit for leading the way. If you can't do it then hand over your job to the cameraman – his car is already on the other side with the camera he set up over there. (see 1 above).
Watching one show at a time can be fun, even 2 is ok, but when I watch 3 or more in a row the "boys own" of it all starts to grate.  Yeah, yeah, I know you're away from your wives and can drink beer and eat shit (take the top off a frozen pie, drill holes in it, fill the holes with tomato sauce, smother it all with chilli sauce and sliced cheese then put the top back on, wrap it all in foil and throw it in the fire to cook.) How many blokes are sitting there now with watering mouths? And I bet all the women out there just pulled a face.
The only show I know of with women doing the presenting is To The Top of Down Under on Aurora (community TV). Unfortunately it's one of the shows that makes me mad, and then very mad very quickly. The "First Lady of Four Wheel Driving" (how patronising) is obviously very capable and could quite possibly travel the outback with just another female friend. But from the credits it looks like they are travelling with their male partners as camera crew – and the boys seem to travel with the 'gals'  in the same cars (see 1 above [again]). That's not quite two women travelling the outback.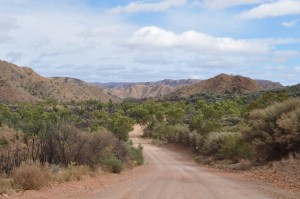 What I like:
Despite his weird accent, I enjoying watching Carlisle's travels. He talks about where is he as well as what he's doing. And he obviously loves what he's doing. Seeing the places he goes to and learning something about them is just as interesting as watching the drive to get there. Sometimes more so.
Having a woman front a 4WD show (even though the show itself makes me mad). I love that she's there and I love that she can be attractive AND capable – it doesn't have to be one or the other.
Learning how other people do things – how they set up their vehicles, what equipment they take, how they set up camp, etc. It's always good to get new ideas because what somebody else does might solve one of your problems. You just need to be a bit careful that the products being recommended are not because of a sponsorship. It's amazing how many people in these shows use and recommend ARB equipment, Engel fridges and  MaxTrax.
Learning what to do and how to cope if things go wrong with the car. I'm not a mechanic and neither are most people who travel outback, so getting some idea of the things likely to break and how to fix them on the go is invaluable. Always carry plenty of cable ties!
Oh all right. I'll admit it. I like to see spectacular crashes and splashes too. Doc is far too careful with his Cruiser to take risks like that – even when I'm filming him.  As he says "I own my car, it's not sponsored, so I have to fix it myself." It does tend to make you more cautious.