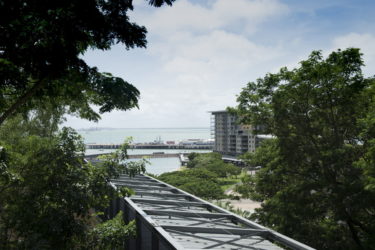 My month long sojourn in Darwin is coming to an end – unless somebody wants to employ me that is! Anybody? I'm open to offers.
While there are some places you can't go (flooded roads/creeks, closed 4WD tracks), and some attractions with shorter opening hours, I still found many things to do in Darwin
Things to do in Darwin in wet season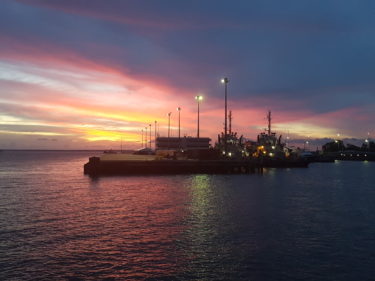 Visit Stokes Hill Wharf
Stokes Hill Wharf is a must-do in Darwin, and usually the first place I go.  Originally built in the 1880s it has been rebuilt a number of times, including after being bombed in WWII.
Stokes Hill Wharf is now a relaxing place where you can sit with a drink, or eat from a variety of food outlets specialising in great local foodstuffs. What you don't eat you can throw into the water for the huge barramundi, batfish, mullet and others which come right up to the wharf to eat it. Or just sit and enjoy the passing the boat traffic in the harbour, or the beautiful sunset. Dolphins come in to play every night – at least every night that I've been there in different seasons.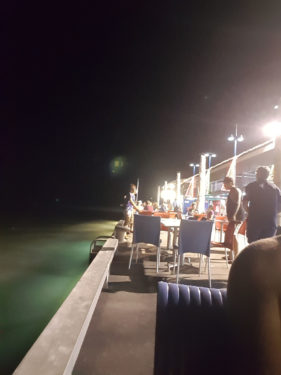 You can sit right on the edge of the wharf where there is nothing between you and the view – not even a fence. Yes Toto, we're not in Sydney any more!!
Markets
Parap markets on a Saturday morning is an institution, with local produce, art, clothing, jewelry and foodstalls. Parap is the most popular market among locals.
Rapid Creek markets on Sunday mornings is the largest produce market in Darwin with an amazing array of fruit and vegetables you might never have seen before. Stallholders are always happy to talk with you about the produce and give you advice on how best to use it. And I can tell you – a green vegetable curry tastes so much better made with real Asian vegetables that are locally grown and sold in markets in Darwin.
Nightcliffs markets is also on Sunday mornings and has clothing, jewelry, art and craft, second hand books. You can sit under the shade with some fabulous food and listen to live music. Not a bad way to spend Sunday morning.
Cullen Bay
The stunning sunsets Darwin experiences during the dry are rarer in wet season when there is usually too much cloud, however they still happen. You can sit at the fish & chip café at Cullen Bay where the food is still served in paper, but the accompanying wine or cold beer is served in glass, or take your own picnic and sit on the grass by the beach and watch the sun go down.
The Trailer Boat Club or Sailing Club in Fanny Bay are other places to go and sit and watch the sunset. Both serve food and drink at tables in the garden by the beach, and both welcome visitors.
Botanic Gardens
I'm a sucker for a good botanic garden. They are always relaxing places to walk, and generally showcase the best of the local flora. When you're in the tropics that flora is amazing, and wet season is the best time to see it – lush and green, and dripping with flowers. Darwin Botanic Gardens has shady areas, a beautiful lily pond, orchid and bromeliad house, desert roses, a community food garden, and, of course frangipani. There's also an area where mangroves and other marine plants grow in their natural environment. The garden stretches all the way down to Mindil Beach, another place where you can watch a beautiful sunset although Mindil Beach Markets don't operate during the wet.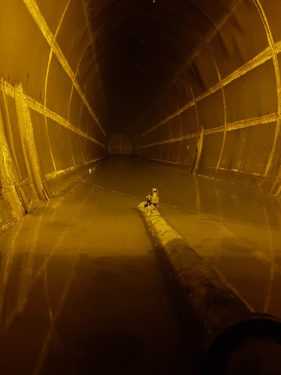 World War II
Darwin was bombed during WWII, heavily. There were more bombs dropped on Darwin than there were on Pearl Harbour. As a consequence there are a lot of WWII relics in the city and surrounding areas:
Oil tunnels – built at great speed and in terrible conditions after the above ground oil tanks were bombed by the Japanese. The underground oil tunnels were never really fit for purpose and couldn't be used during the war, but are a fascinating insight into what it was really like here during the war. Open 9am-1pm every day during wet season
East Point – one of the key strategic defence sites for Darwin during WWII. The primary defence strategy for Darwin was to protect against an attack from the sea, and East Point was a major part of that defence. There are huge concrete structures for gun placements, one with a (very big) gun in place, trenches and places for anti-aircraft guns, ammunitions storage facilities, and bunkers. There is also a very interesting WWII war museum that is one of the best I've seen. Closes at 3pm during the wet.
Charles Darwin National Park – as well as being a beautiful park with views across the wetlands to Darwin city there are concrete bunkers used for ammunitions storage (I think).
Aviation museum – as well as being a general aviation museum there is a lot of information about and relics from WWII, including a B52 bomber
There are many other places of interest if you want to know more about the history of WWII in Australia. 19 February 2017 is the 75th anniversary of the bombing of Darwin and a number of commemorations are planned. It's probably a good time to visit if you are interested in the war.
Mindil Beach
Even though the markets aren't on, it still a great place for a walk along the beach and boardwalk. The Larrakia walk at the northern end of the beach identifies plants of interest, the boardwalk goes over a creek full of mud crabs at low tide, and the walk talks you through the mangroves of the Botanical Garden.
Make sure you look down while you're walking. I've never seen so many hermit crabs in one place!
Please remember that Mindil is of particular significance to the Larrakia people, so treat it with great respect.
Walk along the esplanade and around the city
Darwin is still small enough to get around easily on foot. You can walk under shady trees along the esplanade and stop to look out over the harbour; or walk through the civic section above the waterfront past Government House, the Supreme Court, Parliament House, and see some of the original buildings in Darwin. Though many were destroyed in WWII or Cyclone Tracy some have been restored or preserved.
Swimming
Swimming in Darwin can be problematic in the wet season. Large amounts of rain can cause flash flooding so many creeks and natural waterholes are closed. October – April is stinger season, which means no swimming in the ocean.  Though crocodiles probably preclude ocean swimming all year round!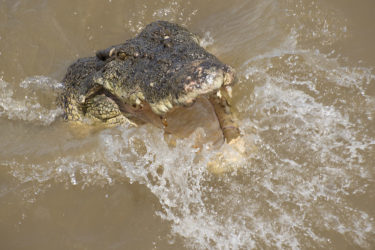 That doesn't mean no swimming at all though
Darwin Waterfront near Stokes Hill Wharf has a man-made beach with stinger nets. It's only small, but in wet season there are few people so there's still plenty of room for everybody. There are life guards on patrol
Wave pool, also at the Waterfront is open all year round.
Lake Alexander, in East Point Reserve is a man-made lake open all year round, though it might be closed after heavy rains because of the bacteria that washes into the water. Check the Darwin City Council website.
Leanyer Water Park and Palmerston Water Park are both great places for kids (and adults) to play in the water, and both are free.
Nightcliff pool. This is a Olympic-style swimming pool on the peninsular at Nightcliff, with fabulous views over the beach and ocean. I've been there a few times this trip because Lake Alexander was closed, and had the place almost to myself. One criticism I have of this pool is that there is not enough shade to relax in when you're not actually in the water.
There are also some amazing swimming places just outside Darwin, but I'll get on to them next.