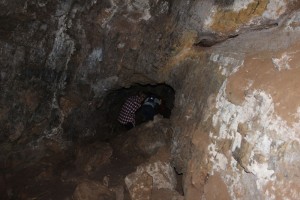 For somebody who gets claustrophobic in the M5 tunnel, I've done my fair share of exploring deep, dark places. And not all inside myself!
The area between Yass and Wee Jasper has quite a few limestone caves, and there are a couple on the farm. When there's a lot of water around the caves can be difficult to access, and even if you do get inside exploring can be restricted because of the creeks running through them. So of course now that everything is very dry, we had to go and explore the big cave.
It's called the big cave to distinguish it from the small cave – we have a unique naming system at the farm.