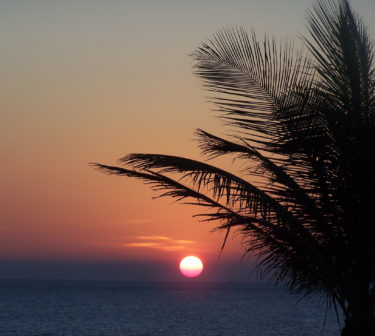 I'm off to Darwin in January. Yes, in the middle of summer and in the middle of wet season.
If you haven't been to the Top End in wet season you don't know what you're missing.
I know a lot of people are put off by the thought of all the rain, and the possibility of cyclones. That suits me – it means it's much quieter while I'm there, but wet season really is worth seeing.
Top 5 myths about wet season
It rains all the time
Rather than constant rain what you're more likely to get is lovely sunny days, with afternoon/evening storms. January is the wettest month, so storms can be phenomenal. Or they can be cyclones. But all that rain also means that plants flourish, waterfalls are spectacular, and animals and birds abound. It is truly beautiful.
It is extremely hot
There is only about 2 degrees difference between the coolest months (June/July – around 30.5 degrees Celsius), and January, which has an average maximum of 32.6. January's minimum is around 25 degrees, compared to 20 in June/July.
What does increase is the humidity. There is very little rainfall in the dry season, and little or no humidity. January is the wettest month, with over 400mm of rain on average. And when it's not raining it's humid.
The hottest time in Darwin is October/November, during the build up, but that's still only 33-34 degrees.
The roads are all closed
Many of the roads in the NT are asphalt, and remain open all year long. You can still get to Kakadu, Katherine, Litchfield National Park, Alice Springs. Even Uluru is tar all the way.
All the parks are closed
It's true there are places you can't get to because of the amount of water, but sometimes that makes it even better. The water itself is worth seeing.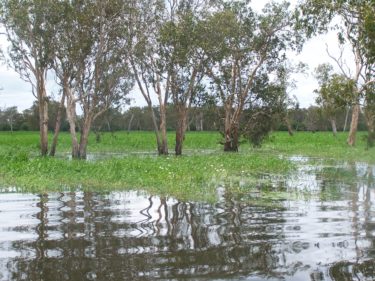 Doc and I visited Kakadu one February. We camped (in a campervan, not a tent, we're not completely stupid) at Cooinda and had the place almost to ourselves. We went for a swim, and watched an amazing lightning show in the distance with absolutely nobody else around. The next day we went on a Yellow Waters cruise, which was unbelievable. Then we watched the sunset over the floodplain of Ubirr.
You can't walk up to the waterfalls, but I highly recommend taking a scenic flight to see the amount of water everywhere. What was a trickle over the falls when we visited in the dry, was a rush in the wet, and you only get the full impact from the air.
When we were at Katherine I thought our van was going to be washed away in the night rain. The gorge came up 3m overnight. Believe me – that's a lot of water! But we still had an amazing tour, got to swim at one of the waterholes, and then sat outside at the café for lunch.
You can't swim in the ocean or waterholes because of crocodiles
Yeah, well, nah …. yeah. That's true. But it applies during the dry season as well. Beware of crocodiles all year round!