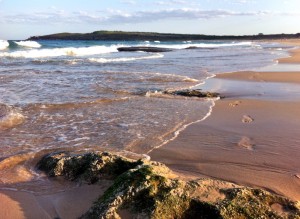 In my enthusiasm for outback Australia, I sometimes forget why I choose to live near the beach.
Of course there are all the usual reasons – sand, sea, surf and sun, which, paradoxically, are the very things some people hate about it.
But it's more than that. The beach makes me feel good.
In my focus on planning to go outback again, I haven't been to the beach much this summer. At least that's what I'm telling myself is the reason. I don't want to think that it's because I've developed an 'it'll still be there tomorrow' attitude.  Slap me immediately if it is.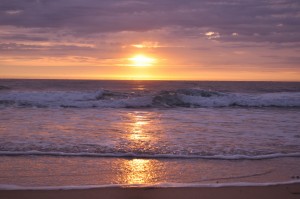 And the beach is something I seldom write about, (unless it's sunrise) probably because I live here and don't think of it as travel. But it's one of the main reasons people come to Australia, and it's the major destination for people to holiday within Australia.
For good reasons – we have some of the most beautiful beaches in the world. And they are – mainly – egalitarian places.
In Australia beaches are public space and you don't have to pay to use them (except for sometimes exorbitant parking fees). If you get into trouble in the water you will be rescued regardless of who you are, and given prime treatment by our magnificent lifesavers.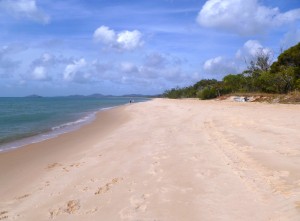 And there are no places on the beach reserved for "VIPs".  Not even at resorts.  You can even walk along and swim at a beach in front of somebody's waterfront mansion.  But you'd probably have to put up with them whingeing and complaining at you if you did. Not worth it really, just to make a point, when we have so many magnificent beaches where people are actually happy to share with you.
I used to go for a walk along the beach every day, and still go occasionally. Whenever I do, I see other people walking along the beach. It's like a little community. We nod to each other in passing, or exchange a greeting. Sometimes we even stop and have a chat. And, very often, there's a "you wouldn't be dead for quids would you".
Because we all know how lucky we are to be there.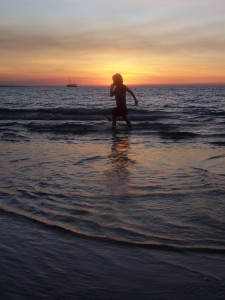 I was at the beach this morning for a walk and a swim. The air temperature at 8.30am was 23oC and the water is a very tropical 21o. Welcome to Sydney in autumn.  I saw some people I'd never met before and some I vaguely recognised. And we gave each other the "where else would you be" smile as we passed each other on the sand.
If you're ever depressed I strongly recommend going to the beach for a morning walk. It's the most welcoming place I know. And ducking your head under the waves makes everything all right again – even a hangover!
A couple of years ago, on the hottest day of the summer (over 40o) I went to the beach. This is a beach less than 1 ½ hours drive from Sydney and near a major centre. It's not far from motels, caravan parks, cafes & restaurants, cinemas and all the other things that people go on holidays for. Yet there was nobody else at the beach. I had it all to myself. Well, if you don't count Doc.
It has soft white sand, crystal clear water, and gentle surf, but it's not patrolled and I'm not going to tell you where it is. It's my favourite secret beach that Doc introduced me to. That's a photo of  it below
Isn't it beautiful!