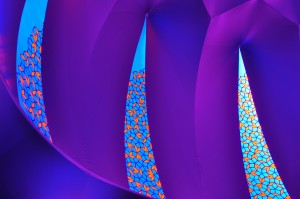 Another Sydney Festival has come and gone – at least for me, the Festival continues until 27 January. I saw a few shows, wandered around city, jumped on a jumping castle and wandered through an inflatable maze.
And, as always, I marvelled at the majesty of language used to describe what is happening. Or should that be sheer wankery?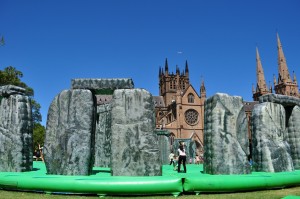 Take the jumping castle. According to the Sydney Festival program it is:
a timeless monument treated to an irreverent modern makeover. Having baffled historians for centuries, Stonehenge is reimagined as a life-size inflatable castle – with everyone invited to have a bounce.
This new work by Turner Prize-winning artist Jeremy Deller has become a contemporary art feel-good hit. A cheeky, family friendly collision of history and art, Sacrilege is a chance for aspiring Druids of all ages to play with the past  
Buillshit. It's a jumping castle.
I jumped on it and I watched other people jumping on it. I didn't see any interacting with history or wondering at the mysteries of the ancient world. About the only education I saw happening was a greater understanding of sunstroke as people jumped in the full sun in the heatwave currently gripping Australia.
It was a bit of fun, but hardly art.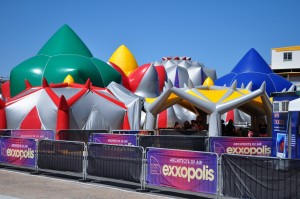 And then there was the maze, oops interactive luminarium (an interactive sculpture of light, colour and air), at the Opera House
According to the exhibition manager
Each sculpture has its own character. They're all inspired by geometric shapes and nature. It's about creating a space for people to enjoy light and colour in a personal way. It's also collective because you're sharing that space with other people. There's no horizon line so you lose your sense of where you are.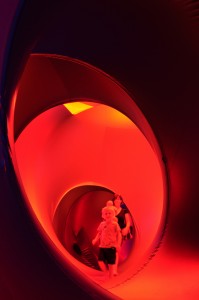 I don't want to get too picky, because I really did love it. I loved the light and colour, and I'm really glad there was air in there. And in sharing that space with other people I met Elijah, and we lay on our backs and talked about the colour of the sun's flames (he'd just viewed them through a telescope) and the planets and stars. He could have been the new love of my life until his mother bought him off with the offer of an ice cream and he trotted off after her with nary a backward glance nor thought for my broken heart. Four year olds can be so cruel!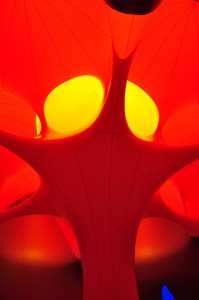 I do have an Arts degree (that's in sociology, not "art") so I'm used to wanky language. And perhaps my lack of an education in art (as opposed to "arts") is showing, but is an inflatable plastic maze really considered a sculpture? And how inspiring can nature be if you then go and use non-biodegradable plastic? Is modelling your jumping castle on Stonehenge all it takes to make it art?
So, is all this "art" talk about jumping castles and inflatable mazes wanky, or am I just a bogan?