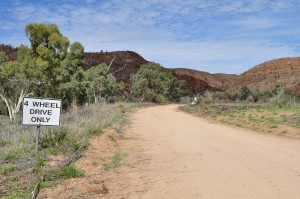 We're at Ross River Resort in the East McDonnell Ranges and contemplating a drive down to N'Dhala Gorge tomorrow.
There's a few "ifs". IF it doesn't rain overnight (it's now cloudy and very cold). And IF I decide that I can get through the first lot of water (already quite deep).
I'll decide in the morning.
So far we've made it through a few roads that have been advertised as 4WD only. The Donahue Highway from Boulia to the NT border, which then turns into the Plenty Highway.  Then 400kms along the Plenty before heading down the Pinnacles Track and onto the Binns Track to Arltunga.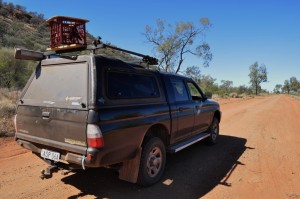 Of course, being safety conscious (as well as conscious of the cost of an outback rescue) I always check with people about the state of the roads. But maybe I'm not being so safe. All it takes is one local to say "Yeeeaah. You'll be ok." and off I go.
Of course, the locals always reckon you'll be ok. As they keep saying to me "Years ago it was all dirt and we all had 2WDs. Now it's all tar and everybody's got a 4WD."
So far it's all been too easy (well, apart from the car trouble, which is still happening but more of that later). We had to drive all the way to Boulia in outback Queensland (2,500km into the trip, and 250km from the NT border) before we even got off the tar. But boy, did we notice it when we did!
The Queensland side of the Outback Way is (in the vein of outback understatement) not very well maintained.  It's gravel, sand, bulldust and corrugations 8" deep. As soon as you cross into the Territory you notice the difference. Wide, graded road – in some places better than the roads in Sydney, not that that would be hard!
But turn off the Plenty and the road's not quite so good.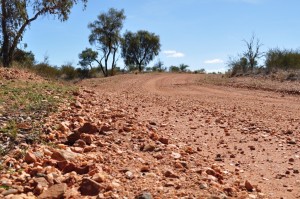 Well, that depends on your definition of "good". It is beautiful. You do get the best scenery and the best adventures going onto smaller roads, whether dirt or tar.
And the Pinnacles Track is particularly scenic. Red gravel winding through some of the most beautiful countryside you'll see in the East McDonnell Ranges. Across dry creek beds lined with white river gums. The track meanders across country, though of course meandering can mean some scary bits – especially when you meet somebody coming the other way on top of a blind crest!
Every one of those crests on the Pinnacles and Binns Tracks brings you onto more and more beautiful countryside. So beautiful that last night we just had to pull up and set up camp off the road where we could sit and watch the setting sun cast its differing colours across the ranges. It was magnificent. We even left the cover off the tent so we could watch the stars as we fell asleep.
Magic!
The temperature may have dropped to 5 degrees overnight, but it's amazing what a roaring campfire and a warm sleeping bag under a million stars can make up for. Even I, the coldest blooded person I know, was comfortable and happy.
That is until I woke up to cloud cover. I might be adventurous but I know the limits of my car – and red mud is beyond them. With only 35k to go before we were back on tar the last thing I needed was rain! But of course, while you're out here you have to see things, so keeping a close watch on the weather we took the hour long walk through the ruins and old mines at Arltunga. It didn't rain and we made it back to the tar.
But now there's N'Dhala Gorge to contemplate. Real off road, with river crossings, sand and rock. I'll have to sleep on this one!