Day 1. 89k into the Simpson Desert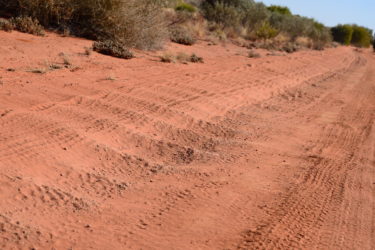 I don't like to admit it at the beginning of a trip, but I was a bit worried. I decided to come into Dalhousie from Oodnadatta rather than go through to Mount Dare. That meant an additional 130k worth of fuel usage before I started in the desert. I'd calculated that from Oodnadatta, based on all information I had, I would make it through the Simpson and have around 10 litres of petrol left when I got to Birdsville. Not a lot, and no room for error, but I was fairly confident. Sort of. The car had been using a lot of fuel before I got the head gasket fixed, but it was ok now. Wasn't it? Problem is, if I ran out of fuel most other people passing would have diesel, so it might take a while before I could get any help.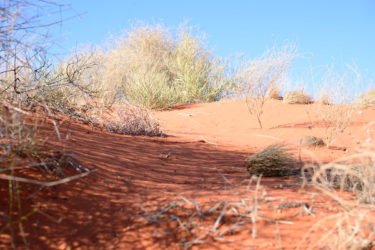 So I must say a big thank you for the kindness of strangers. Two old school friends (each other, not of mine. Thanks Brad.) who were even more worried about me making the crossing on my own than I was. They filled up my fuel tank with the spare petrol left over from their crossing so I left Dalhousie with 100 litres of petrol.I also had 35 litres of water (plus a few 600m bottles), and enough food to last a month, and tyre pressure down to 16psi.
What with waiting for my swag to dry, and having one last swim at Dalhousie, I didn't get away until midday. That's ok, I was only planning on going as far as Purni Bore, 70k down the road, anyway.
That would have to be one of the worst roads I've driven on. Corrugations, more corrugations, and even more corrugations. Ones that you can't go fast over because as soon as you do, you'll hit a wash out. Besides, the speed limit in the park is 40k
After bouncing over enough corrugations to rattle my back teeth loose I made it to Purni Bore. And immediately decided to continue driving.
There's not really much of interest at Purni Bore. The water flow has been turned right down to prevent leakage from the Great Artesian Basin. There is still a bit of a wetland, and bird life, but I got a lot more of that in Dalhousie.
There's also a shower, but really, who needs a shower in the desert? So I got back in my car and continued on my way.
Just a few kilometres down the road I got into the Simpson Desert Regional Reserve. This is what I came for!
It's been a pretty cruisy day really. I watched the sunrise from in the Spring, got out for coffee, then went back for another swim while my swag dried.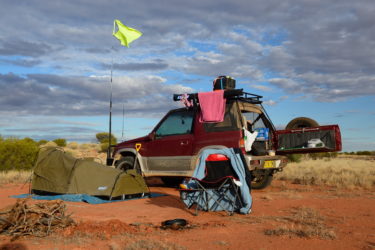 I decided that 4 hours on the road was enough, so when I spotted a nice camping spot, with plenty of wood to collect, I pulled up. Plenty of time to collect firewood, then sit back and relax. I watched the sunset behind the dunes, and cooked dinner on the campfire.
I made a deliberate decision when coming out here that I wouldn't bring any wine. Being on my own I need to keep my wits about me. And it's too easy to drink a bottle of wine while you're sitting beside a campfire, contemplating. I really don't need that to dehydrate me, so decided to stick with water. But as with all good intentions …
When I pulled up I realised I was a bit dehydrated anyway. Who would think that sitting in a pool of water could be dehydrating, but it can. All that time in the warm water at Dalhousie had dried me out. When I got out I just packed up and left. I knew I was thirsty but I was too focussed on getting away and into the desert. So while sitting by the fire I drank a bottle of water and made myself a cup of tea in the billy.
It was even warm enough to leave the top of the swag folded back so I could fall asleep watching the stars.
This is the life!