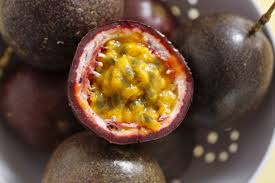 I've just had my first mango of the season. Summer is here!!!
I love the summer, apart from the weather the fruit is one of the things I love the most. Especially the tropical fruit. Mangoes, mangosteen, papaya, durian, rambutan. Even the names are exotic and exciting. Surely it's only in the tropics that somebody would think to call a fruit "passion".
Possibly after the way eating it in the tropics makes you feel.
Imagine sitting on the veranda overlooking the Coral Sea (yet another evocative name) in lush tropical heat with fans whirring languidly overhead, and cutting into a dark purple ball to release the tangy odour and suck out the bright yellow flesh and dark seeds of a passionfruit. Or eating a mango with the thick, luscious nectar dripping down your fingers, waiting to be licked off.