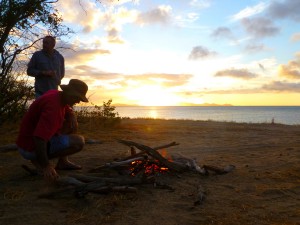 Part 2 of my favourite camping spots in Australia.
While writing this I realised that most of my favourite places to camp are in Queensland. Given the beauty and variety of the landscape in Queensland this probably isn't surprising (and I haven't camped anywhere in Western Australia).
So here are the next three best places to camp in Australia, in no particular order.
Well worth the 10 hour, 110 km trip from Kalpowar Crossing (another beautiful spot), to Bathurst Bay. Accessible by high clearance 4WDs only, it is one of the most beautiful spots I have ever been to. Spoilt only by the big croc swimming somewhere in the bay. It is so remote and difficult to get to that very few people go, so you can be sure of getting a great camping spot, and of having it all to yourself. We set up camp, slung a hammock between two trees and settled in for a few days. We captured rainwater off the tent for washing, I caught a mud crab on a line, and we enjoyed having the place all to ourselves, with the beach in front of us and the bush behind.
I could have stayed a lot longer and it's one place we will definitely return to.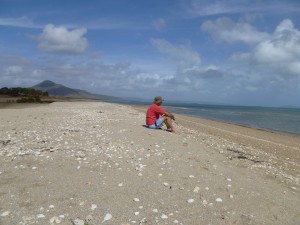 Gunshot, Old Telegraph Track, Cape York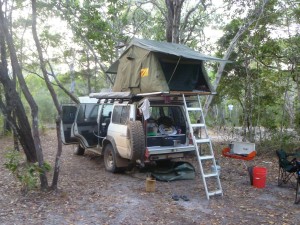 Our first camping spot on the Old Telegraph Track on our trip up Cape York, and a suitable place to celebrate having made it that far, including over the dreaded Gunshot. Actually, Gunshot was nowhere near as difficult as Palm Creek but its reputation precedes it and we had a whole day of anticipation until we got there.
We set up camp under the gum trees, got together for a drink and dinner with fellow travellers we'd met that morning, and raised our glasses in celebration. The next morning Doc & I watched the sunrise through those gumtrees, while drinking coffee in our roof top tent.
Julia Creek, outback Queensland
I'm not sure if this is on the list because of the camping spot itself, or because of the town.
I've been to Julia Creek a couple of times now, but only camped there once. There is a free camping area just outside town, within easy walking distance, but you must be fully self contained. All you need to do is register at the information office in town, and you can camp free of charge for up to 4 days. But be warned – it's very popular. For good reason.
Nestled beside a creek, under the gumtrees, it is a beautiful spot, as is the town itself. We came for one night and stayed four. Then we went onto the Saxby Roundup and came back for another night. And just down the road a bit is the world famous billabong. Yes, THAT one.
Tomorrow will be the final instalment, and will move beyond Queensland.