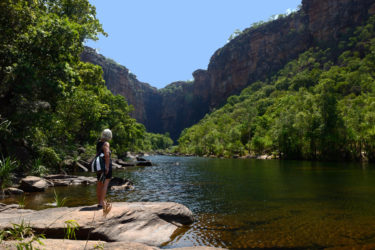 "Don't go to Kakadu go to Litchfield, it's much nicer."
The number of times I have heard a variation of that sentiment is astounding. As if a) you can't go to both places, and b) they're even comparable.
Both places are beautiful, but they are completely different. Litchfield has waterfalls and swimming holes. Kakadu has Indigenous history and culture, and wildlife.
This is my third trip to Kakadu, each time in different seasons. There are six seasons in Kakadu, based around the environment and local Bininj/Mungguy culture.
My first trip was in Wurrgeng, when it's cooler and drier, and burning time. The second trip was in Gudjewg, wet season. The difference was stark. Waterfalls that had been a trickle the first time were in full flow. There's so much water flowing in Gudjewg you can't get anywhere near the falls, and the only way to see them is from the air.
But I've always wanted to see Kakadu in bird season (I really am becoming a grey nomad!). With my sister working in Darwin it was a perfect opportunity to go on one of our sisters' weekends. Eleanor is not a camper, and has been my partner in the luxury component of my trips before. So we booked a cabin for three nights, but we did hire a Jeep so we could go off road.
Bird season in Kakadu is in Gunumeleng, at the end of the dry, just before it starts to rain. When water dries up in other parts of the country, the birds come in to Kakadu, and it is an amazing sight.
Problem is, that's also the hottest time of the year. While we were there the maximum temperature ranged from 35o – 41o, and it was humid. If you don't like that sort of weather, Kakadu is probably not the place to go in November. It's too hot and humid to do a lot of walking, and the longer walks were closed anyway due to the weather. Even the short part of the walk we did to Jim Jim Falls that was through the sun had us feeling the heat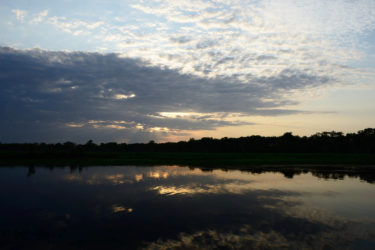 But we didn't go to do any hiking.
One of the most spectacular sights for birdwatching is Mamukala Billabong, where the magpie geese congregate in their tens of thousands. Every morning they take off, sometimes in formation and sometimes in flocks of hundreds or thousands, and head off for the day. Then they fly back in again in the evening. It is a spectacular sight – and sound. Thousands of magpie geese all in the same place make quite a racket!
We sat in the bird hide at the edge of the billabong and watched the geese and whistling ducks sparring at the edge of the water. Some of them are cranky buggers, pushing and shoving, and biting each other like unruly toddlers who haven't learned any social graces. Some of the ducks seemed to spend more time with their heads under water and their bums up in the air than the other way around!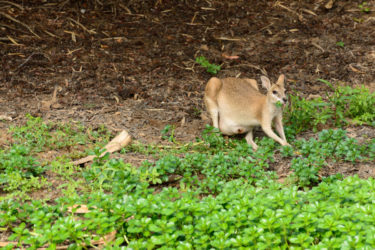 As it got closer to sunset a couple of kangaroos came down to drink at the billabong, and some of the birds settled down to sleep. I'm not sure, but it looked like the whistling ducks were sleeping standing up. Perhaps somebody could enlighten me on this one.
The Yellow Waters Cruise is also a great place for bird watching, and we easily spotted the ones we really wanted to see – Azure Kingfishers and the tiny Little Kingfishers. Of course there were also lots of others including brolgas, rainbow bee eaters, nankeen night herons, sea eagles, eagles, whistling ducks, 'Jesus' birds (so called because they walk on water) and many, many more.

And, of course, there were crocodiles. A lot of crocodiles. Salties. Big ones. Hanging out very close to each other. For territorial animals they were certainly tolerating each other very well. In fact, there were so many that croc spotting became boring, which was just as well because it was the birds I wanted to see anyway.
And the water lilies. But that's another story.