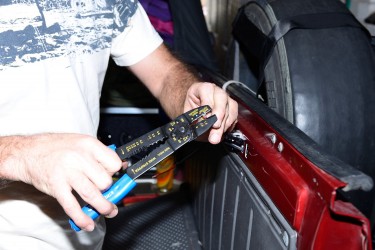 I've set a date, and we're on the countdown. Now we just have to make sure the car is ready to go.
To travel around the outback it is absolutely essential that your car is properly set up for the conditions.  This doesn't mean you have to spend a lot of money, but it everything needs to work, and it needs to be comfortable.
I will be doing around 7,000k this trip, and camping most of the way. The car is very small (Suzuki Vitara), meaning everything in the interior has to be well designed to fit in.
Doc has been working hard to make sure everything is OK, and the car has had, or is getting:
Second battery to run the fridge, internal lights, and the charging station
Charging station for all my electronics (designed and made from scratch by Doc to fit the available space perfectly)
Drawers
Drop down table on the back door (again designed by Doc and made from an old backing to a kids desk)
UHF radio
New, stronger, free wheeling hubs
CV shafts
Front wheel bearings
Front shocks
New oil seals
Snorkel
Internal lights over the back drawers and the drop down table
Winch
I know, I'm very lucky to have Doc to do all this for me, and I appreciate the effort he puts into it.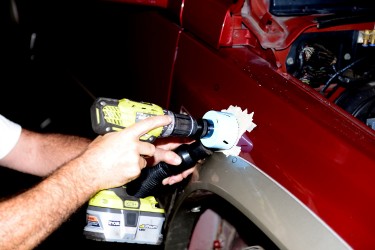 Especially because every time he starts on one thing, he finds something else that needs fixing.  It's a bit like a treasure hunt – pull one thing off the car and find the clue to the next thing underneath that needs adjusting. There have been times when I wondered if he was rebuilding the engine. Parts have been pulled out, cleaned, painted, refurbished, or replaced, and (mostly) put back in.
"Bodgy" is a word Doc has used a lot lately.
But if there's one thing I know about my trip, it's that the car will be the best it can possibly be!
So how much has all this cost? I'm often asked how much it costs to set up to travel around Australia, and the answer is "how much have you got and what do you want to end up with?"
| | |
| --- | --- |
| Item | Cost(rounded) |
| Car | 5,000 |
| Drawers | 650 |
| Snorkel | 99 |
| Second battery | 225 |
| Drop down table (from an old desk) | 0 |
| Lighting (3 strip lights – over table, inside the back of the car, and detached strip for mounting outside) | 40 |
| Charging station (made by Doc – including Inverter ($90), USB & cigarette lighter ports ($28), fuse box, cut out switch, cables, wood & carpet (left over scraps from other jobs) | 118 |
| Hubs, seals, shocks, CV shafts, bearings | 700 |
| Winch | 395 |
| UHF and aerial | 324 |
| Hema Explorer downloaded to my phone | 30 |
| TOTAL: | 7,581 |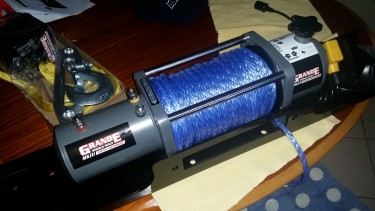 For $7,500 I have a 4WD fully fitted out for exploring the outback. That's less than you might spend on one holiday, and you still have the car to use again and again. There is the fridge, swag and camping equipment on top of that, which I already had, but you really don't need to spend a lot of money to be able to travel around Australia. As a matter of fact, for most things you want to do you don't even need a 4WD.
The Suzuki is probably not big enough for more than one person, so if there are more people you would need a bigger car. The costs above would vary according to the car you bought, but the other setup costs should stay much the same. When Doc and I go away together on an extended trip we take the roof top tent, which cost around $2,000. You can get them for less, but you do want to make sure you are buying quality. I lived out of a tent when I went away with a girlfriend for 2 months, and that cost just over $100. Admittedly it did blow flat one night, but I think that was my set up skills (or lack thereof) rather than a flaw in the tent design. We have a Bushman's fridge that we picked up for $300 in a second hand shop, and an Engel that Doc has had forever. I'll be taking the Bushman's as it does much better at keeping fruit & vegetables cold without freezing them.
The Suzuki is well set up, and perfect for me. At least I hope it is, let's see how it goes when I'm actually travelling. Given all the care and attention Doc has lavished on it over the last month or so, it should make it there (wherever there is) and back.
I'll keep you posted.