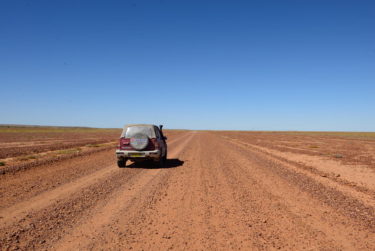 I have done three major solo outback trips now. There would have been more except for lockdowns!
Will I do more? Definitely. I'm already planning the next trip.
I loved every minute of it. Even the … um … actually there weren't any "even the" moments. It was all fabulous. There were a few times when I wasn't sure if what I was doing was right or if the car would make it through, but I survived them all. And so did the car.
Every time I go away I learn something, usually because I did something completely stupid! So what have I learned?
I can do it. Not that I ever had any real doubts, but it can be a bit daunting for a woman to get out there and travel the outback on her own. Everyone I met was lovely, and interested in finding out my story. And nobody harassed me.
You don't need a huge 4wd to travel the outback. I did it in my Suzuki Vitara, which was another talking point. Everyone remembered the little Zook with the woman on her own driving. People would come up to me and tell me they'd seen me at a previous stop and start talking.
Know your equipment. For some reason the fan belt on the car loosened every day, which meant I had to tighten it every morning. Lucky I listened to Doc when he showed me how to do it. I learned I could do that too, and check for other problems with the car. I think I even started talking like a mechanic towards the end
I'm turning into a bloke. On the Birdsville Track I stopped off at the Claytons campground. There was a big pool with a bore that you could turn on to fill the pool to soak in, but when I turned it on cold water came out. Not being interested in a cold bath I turned it off and continued up to the next camping spot. I should have read the instructions – let it run for a couple of minutes while the hot water comes up from underground! I could have had it all myself that night
I can go without a shower for a long time, but after around 4 days my hair starts to feel like it's alive and crawling all over my head. A camp wash is all well and good, but with a combination of dust, wind (I drive with the windows open), sand, insect repellent (reapplied every couple of hours), and wearing hats (including sleeping in a beanie when it's really cold), my hair got to the stage where I couldn't get a comb through it. And my computer doesn't recognise me after 4 days.
I can live without social media, but only for a few days at a time. There was so much I wanted to shout to the world that it was very hard not being able to tweet or facebook. But that was probably a good thing, by the time I did get mobile phone service I'd calmed down a bit so didn't inundate everybody with posts every few minutes.
This style of camping and travel is really hard on your hands. My knuckles are all grazed and my finger nails broken to the quick and bleeding in places. It will take weeks for them to recover.
I love being outdoors – walking, sitting, having a campfire, and sleeping under the stars. It's magic, even when it's cold, though that's when you do need a campfire!
I don't care how stupid they look – next time I am bringing a netted hat. I have one at home, which doesn't help when there are 6,000,000 flies buzzing around me out here. They particularly seem to love your eyes, nose, mouth and ears. And even the super charged insect repellent only works for a short while before they all buzz around again. But somehow, at sunset, they all just disappear. Just in time for the mozzies to come out and play!
So what completely stupid thing did I do this time? Probably several things, but I managed to survive them all.