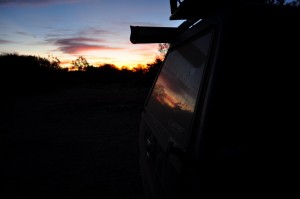 Now that the trip is over, and the cleaning up is done, it's time to review what worked and what didn't, and what I learned this time.
Fridge – Bushmans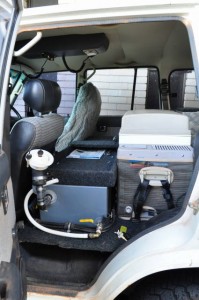 I generally love my Bushmans fridge. It's taller than the Engel so that you can stand a bottle of wine up in it, and the basket system means that I can keep vegetables in the top basket and they don't freeze.  Until this time! For some reason my fridge set itself to -18 degrees C and I couldn't change it. The vegetables mostly stayed ok in the top basket, but even the cheese froze in the middle basket. And of course the milk for coffee was frozen every morning unless I remembered to either turn the fridge off overnight to take the milk out before I went to bed. I usually forgot!!
Tent – Oztrail Classic Crossbreeze 4V dome tent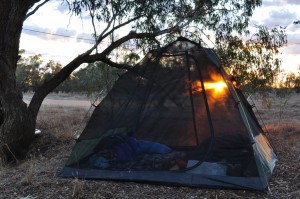 Even though we were spending time in both warm and cold weather I decided to take a summer tent.  Mistake! Not because it didn't keep out the cold – it didn't, but then I didn't expect it to and nothing does really unless you have a heater – but because the poles don't seem to be very well made. I bought this tent before my trip to Broken Hill and one pole broke on that trip. This is the second time I've used it and three more poles broke this time even though we didn't have any particularly bad weather and very little wind at all. In all other aspects the tent was fine, but I'd have to think carefully before recommending it even for weekend camping.
Sleeping bag
I have a lovely warm sleeping bag that is so old the brand name is worn off. Usually it's beautifully snug, but then again usually I don't sleep out in the cold in a tent! Most nights it did its job but there were a couple where the overnight temperature dropped to around 2 degrees, and even though the bag is rated to 0 degrees, I did feel the cold. It probably would have helped to have the cover over the tent, but the problem I found with the sleeping bag was the zipper.  The zipper got cold and the little bit of cloth covering it inside just wasn't enough to keep that cold off me.  For very cold weather, sleeping bags need something covering the outside of the zipper as well to stop it getting cold in the first place.
Car – 2001 Triton Ute, dual cab, high clearance
Well, the worst happened and we had car problems. 150km from Winton and still 250k from Boulia it started losing engine power.  With not a mechanic to be found I had no choice really but to continue to drive and hope for the best. It was an intermittent problem that only started once I'd driven 250k or more in one go. Naturally my solution was not to drive that far, but because of the vast distances  where we were I didn't have much choice for a couple of days. Then the problem stopped just as inexplicably as it started and we had no further trouble.
Even though the ute is 2WD we went on many dirt roads, including some that were 4WD only, and the ute handled it all. I didn't even get a flat tyre. Doc's advice to "check all over the car every day" is a good one and quite likely helped me to avoid any serious problems as the car does use some oil. But it is over 10 years old so I guess that's not too bad.
After 10,324k on this trip it's time for another service and a bit of a rest.
Stove
I have a great 3 burner gas stove for camping, but on future trips, particularly long ones, I'll also take a single burner butane stove. They're much smaller and easier to set up if you just want to stop for a cup of tea or coffee.