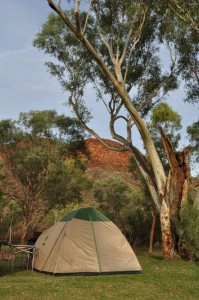 I've written a couple of articles providing tips for people who want to go camping, but there's also the other side to consider. How do the camping areas/caravan parks themselves stack up?
Caravan parks now have considerable competition from free camping areas, and more and more people are prepared to "go bush", and set up somewhere right away from everything.
Sometimes people just want that 'real' bush experience, but in some cases caravan park owners have contributed to this themselves by their practices.
Most of the places we stayed at were quite good, but there were some areas they really could improve. Here are some tips for camping ground/caravan park owners to help improve the experience for travellers, and perhaps help them attract people away from free camping areas.
My top tips for campground/caravan park operators:
Over $20 a night for a place to pitch a tent is expensive, $30 is exorbitant, and over $30 is highway robbery or price gouging, especially when you have a monopoly on where people are allowed to camp (Ross River $36; Ayers Rock Resort $36; Kings Canyon Resort $38; Kings Creek Station $42)
The major reason people camp in a caravan park is for access to hot showers, so if you advertise hot showers they should be hot. Tepid water doesn't cut it, especially in the desert in winter (Tobermorey Station; Kulgera)
A sink doesn't make a camp kitchen, no matter how big a roof you put over it (Kings Canyon Resort)
Having only 1 barbecue out of 3 in your campground working is not adequate, particularly in peak travel season when you're charging $36 for somewhere to pitch a tent (Kings Canyon Resort). Not supplying gas for the barbecues you do have is just rude (Kulgera).
8am is a ridiculous time to try to clean the shower blocks. If all the showers are being used and there are another 3-4 people milling about using sinks or waiting for a shower it should give you some indication that it's peak period. Go away and come back at a better time (Ayers Rock Resort)
I know you probably recite the camp rules and facilities 100 times a day, but that's no reason to sound bored when you do it. It's the first time I've heard it, make it welcoming.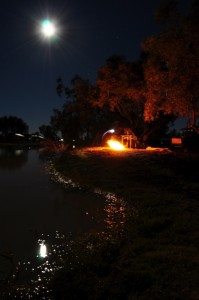 And my top tip for caravan park/camp ground operators:
Part of camping is having a camp fire. If you don't want people to light fires just anywhere at least provide communal fireplaces for them. If possible keep them stocked with wood. In winter it can get cold at night even in the tropics, in the desert it's freezing! (Heavitree Gap Alice Springs, Kings Canyon Resort, Winton, Quilpie, and many more)
My favourite camping ground on the trip would be Gemtree on the Plenty Highway. It had camping spots with enough space between them that you didn't feel crowded. They were bordered with trees and bushes and each had its own fireplace. The facilities were first class, and Kate's Camp Kitchen had catered food and entertainment everynight. There was even a big outdoor screen to watch the football. Importantly, Kate and Aaron and all the staff were very friendly and helpful. It would be a great place for a holiday on its own, for the whole family.
And my favourite overall camping spot? That's a tough call. There were quite a few that I loved, but if I had to choose one only, it would probably be: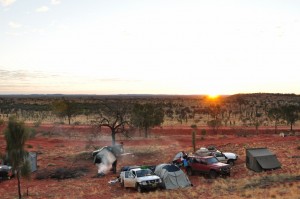 On the Finke track. It was red dust, with no facilities, and it was fabulous. We had a campfire every night and sat in the sun during the day to watch the race. It was made even better by the company we were with (thanks Lincoln, Kate, Ag, Jase, and friends)
Coming very close (in no particular order) were by the Thomson River at Jundah, and by the Paroo River at Eulo. There were a lot more places I would have liked to try out – maybe next time!
So what do you look for in a camping or caravan area? And what do you try to avoid?