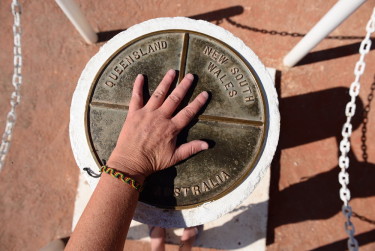 I'm sitting at the Corner Store.
Not the one down the street from home, the one at Cameron Corner, where three states meet: New South Wales, Queensland, and South Australia. I'm not sure which state I'm in, or should that be what state I'm in.
And I drove the Strzelecki and Old Strzelecki tracks to get here.
A lot of the roads I've wanted to travel on, to the places I've wanted to go, have been closed. I missed out on Coongie Lakes because the road out there through Innaminka Reserve was closed, and missed Poeppels Corner because the Warburton was closed from the Birdsville Track.
So when I was driving from Innaminka to Cameron Corner, and saw the sign for Old Strzelecki Track with no "road closed" sign, the temptation was too much.
I did hesitate for a moment. I was on my own so wasn't sure if it was really a good idea. But I had told people I wanted to drive down that track if it was open so figured it was ok. People knew where I was going and where I was expected to be.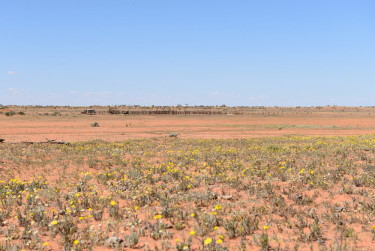 Then I saw a sign "Take care with dust. Very long vehicles drive this track often" and thought to myself "How hard can it be?"
Famous last words.
First there were ruts. That's ok, drive slowly enough and they're not too difficult, just a bit bumpy. Then there were places where the track was at an angle, which was probably only about 30 degrees, but felt to me like the car was about to tip.
And then there were corrugations.
I know from experience with corrugations that the slower you go, the worse they are. So I tried to drive fast enough to drive over them, but then there were curves, and soft sand, and corrugations all together. I don't think the dentist will have much trouble getting that back tooth out now, all my teeth have rattled loose!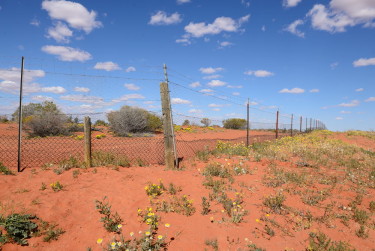 Once I got onto the new Strzelecki the corrugations were even worse! Big enough to swallow my car. And I had to keep slowing down to let somebody overtake me, or to pass a car going the other way, or I'd stop to take photos. The slowing down and speeding up again was a killer. I thought the car was going to fall apart.
So even though it's only lunch time, I figure this is far enough for today.
It might look like there's not much at Cameron Corner, but just sitting and talking to the people here I found out about a different, more interesting, route to take tomorrow, and I heard about a track behind the sand dunes here where there are beautiful wildflowers, and red, red, sand.
I can even play tri-state golf if I want to.
And I've discovered why there are very few kangaroos in South Australia – they are all on the NSW side of the dingo fence and can't cross over. After a couple of weeks of not seeing one kangaroo I have now seen about 50, all on the other side of the fence.
This is what I love about travelling. Being able to stop where and when I like, just to soak up the atmosphere. Meeting locals and having a chat, and learning about a place from their perspective.
It's amazing how many people come to a place like this for a holiday, and then don't leave again. The bloke digging out the wishing well to move it told me he was there on holidays – for 3 years now, and the people who own it used to drive through on their holidays. They loved it so much that when it came up for sale they bought it. I even sat and had a drink with a couple who lived out here for 4 years while he worked the dingo fence. Now they're back here on holidays because they miss it so much.
It really does get under your skin. The beauty, the desert, the big open skies, and ever changing landscape is magic. I'm glad I stopped for a while.