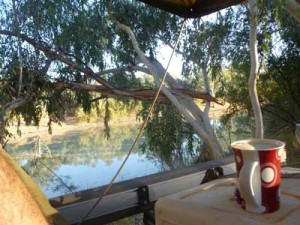 Do you get that reaction from people when you say you're going camping? You know the one – their nose turns up, the corners of their mouth turn down and they get a slight shiver all over their bodies – as if something particularly bad smelling has just wafted past them.
Or is that just my friends and family?
Admittedly, I used to have much the same views about camping – it's uncomfortable and far too close to nature and all those stinging insects, snakes and spiders.
But then I met the huntin', fishin', shootin' and camping love of my life and he dragged me kicking and screaming into the outback in a swag. Now for those of you who haven't seen one, a swag is a roll of canvas with a thin strip of foam that you sleep on. Ours is one of the luxurious ones with a mesh cover to keep insects out and a canvas top that you can zip up in case of rain – sort of like sleeping in a coffin.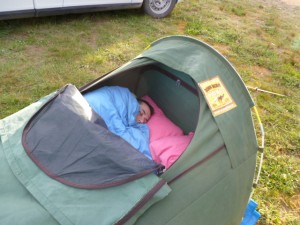 And I – a previous 5 stars all the way girl – loved it. Even as 'a woman of a certain age' (37) with a bad back, that thin strip of foam is comfortable. And there really is nothing to compare with the sheer beauty and romanticism of sleeping under a million stars, with no city lights to dim their beauty.  The milky way is something I hadn't seen since I was a kid, but there it was, a long, thick glittering streak in the sky.
I haven't looked back since.
For our trip up the Old Telegraph Track to Cape York we swapped the swag for a roof top tent (to get us up off the ground and away from crocs).  This had the added benefit of allowing us to lie in bed of a morning with a cup of coffee while we watched the sun rise through the gum trees or over the ocean across our 'balcony' of the roof of the car.
While on the Old Tele Track we met a couple on their honeymoon. The question they most often got was "why?"  Well, apart from Cape York being one of the most romantic places in the world where you can watch the sunrise over the ocean, and then watch it set over a different ocean the same day or walk on an isolated tropical beach where few have ever set foot, why camping?
Just imagine – you pull up at a bush camping site, set up your camp (even the most elaborate don't take that long), sit with a glass of wine and watch the sunset, eat dinner by candlelight, then sit around an open fire looking for shooting stars amongst the millions in the sky before retiring to a comfortable bed. Who wouldn't feel romantic?
For all those who still aren't convinced, I've put together a list of the top ten romantic things we've done while camping. I know I've done this before, but I'll repeat them here for those who missed it. Some of these you can do without camping, but you often have to pay a premium. It's hard to top the experience of doing them on a budget, and all on the one trip. Some of these places you can only stay at if you camp, and often there's nobody else around.
Lain in bed with our morning coffee, and watched the sunrise through the gum trees off our 'balcony'
Drunk champagne on the northern most tip of Australia while watching the sunset over the ocean
Massaged each other's feet while sharing a mud bath at Eulo
Snuggled by an open fire and watched for shooting stars
Made love and slept under the stars
Canoed through the serene beauty of a gorge that's millions of years old
Walked hand in hand along a deserted tropical beach
Sat quietly by a lagoon watching the birds and animals come to feed, drink and play
Swum naked in the crystal clear waters of a waterfall
Lay in the tent going to sleep with the sounds of rain on the roof then bathed in the freshly caught rainwater with the smell and sounds of the Australian bush providing ambience
I guess the joys of camping really are in the way you look at it.