A question I often get asked – perhaps most often – is what do I pack for camping and travelling.
Well, that depends on where I'm going and for how long, but the short answer is as little as possible.
In essence – pack light, and layer.
My last trip was for 8 weeks, and I will admit that I broke my general rule of taking only one small, soft bag for that one, but not by much. I had 2 small, soft bags and neither was packed full.
The key is comfort and versatility.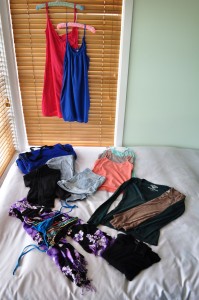 On my last trip I packed:
3 singlets
2 long sleeve t-shirts
2 long sleeve cotton shirts
Thermal jumper (very light but very warm merino)
2 summer dresses (my luxury – I love dresses, even when camping)
Sarong (perhaps the most versatile of everything)
1 pair shorts
2 pairs black tights (1 thermal)
1 pair jeans
4 pairs knickers (yes, I do wash them out every day), 2 pairs ankle socks + 2 pairs warm socks, 1 swimsuit
Beanie, scarf, gloves
Even with toiletries all that fits into one small bag, with room left over, but as it was very cold in places we were going to I also had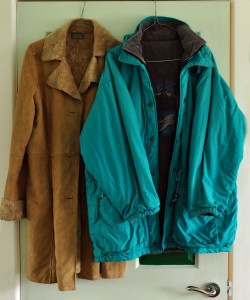 1 pair uggies (that's sheepskin boots for all you non-Australians)
1 pair decent looking and very comfortable long black boots
2 pairs thongs
Sheepskin coat
Thick, padded waterproof jacket
All of which fitted easily into the second bag so that when they weren't needed (when we were in warm places) they could be packed up and put at the back of the car out of the way.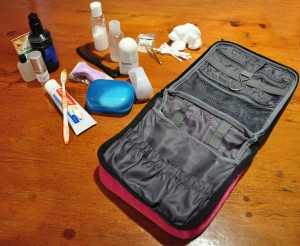 And of course, toiletries. That's another of my luxuries. If I'm away for more than 2 weeks I take a pedicure kit, as well as face mask and scrub. Just because you're camping doesn't mean you have to ignore your beauty treatments! And I have a fabulous toiletries bag that seems to hold everything and hangs up – either on the back of the shower door in a campground, or on a tree branch if you're out bush.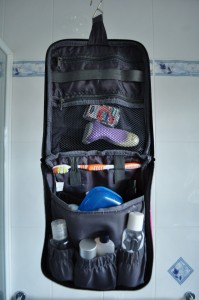 That might seem a lot, but we were going from the desert where it got down to 2oC at night and sometimes didn't seem much warmer during the day, to the tropics where even in winter it could get up to 30o during the day.
And we were visiting festivals and doing other nice things while we were away, so I even took my pearls. A girl can't go that long without bling!
And as we were often bush camping, without access to water to wash clothes, we really did need a few changes. When you wear the same things for 24 hours, they can start to get a bit dirty and smelly – especially if there's mud around! Even with all those changes, sometimes I thought my clothes might get up and walk off without me they were that thick with dust and/or mud.
When we were in cold places I layered – singlet, then long sleeved t-shirt, then shirt, and a jacket over that, with a scarf, beanie and gloves as well if necessary. At times I also wore 2 pairs of socks. As it warmed up during the day (or IF it warmed up) I'd start stripping off layers. Some days when I started with everything on, I'd end up with just a singlet & shirt and I might change my tights for shorts. By night I'd have everything on again.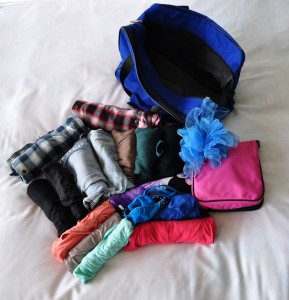 It if was warm, then a singlet & shorts or a dress was enough. In the morning or evening when it was a bit cooler, one of the shirts served as a jacket, or the scarf or sarong was used as a shawl.
And the secret to packing?
Roll, don't fold your clothes. If they're rolled rather than folded they crease less and it makes them much easier to pack – and find in your bag when what you want is right down the bottom.