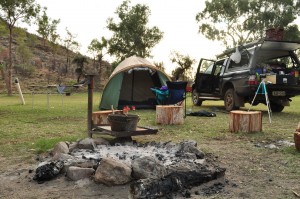 I've always said "if you can cook it at home you can cook it camping". That's true, but the question is "would you?"
Camping is supposed to fun and relaxing, so you don't want to spend all your time slaving over a hot fire. If it needs three different saucepans and an hour of preparation time, it's probably not worth it.
Keep it simple is the key to a happy camping experience – especially when it comes to camp cooking.
I always travel with a camp stove with 2 hotplates, but whenever the opportunity arises I cook meals directly over the campfire. While you don't need any special equipment to cook on the fire, there are a couple of things that make it much easier:
Cast iron barbecue plate
You can cook directly on a barbecue plate, which is excellent when you want to do barbecue type food, but you can also use it as a cooktop. It keeps your saucepans steady and prevents spills, and moves your food away from direct contact with the fire, which stops some things burning and sticking to the bottom of the pan. You can buy them with just a plate, or half plate & half grill.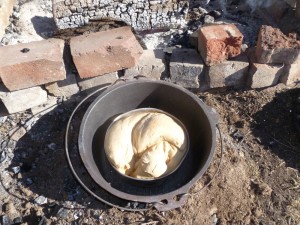 Camp oven
I love my camp oven. I not only use it as an oven but also as a large saucepan. I've cooked stews, roasts, soups, laksa, bread, scones and cakes in the camp oven. For me, it's invaluable. There's always a debate about how to best clean a camp oven. Some people maintain that you should never use detergent on them but I do. I also scrub it with a scourer if needed. It's cast iron – you won't ruin it. Besides, I don't want the flavour of lamb roast or curry through my bread and cakes, so I want it clean.
Here's a list of easy foods to cook on a campfire
Food on a stick (courtesy of Go Camping Australia)
Sausages are great for this, just push the stick (i use a long metal kebab stick with wooden end) through the length of the sausage and hold it over the fire. Don't forget to turn it so that it cooks easily. You can also put cubes of meat and/or vegetables to make a shish kebab. And the best thing? Whoever wants to eat can cook it themselves!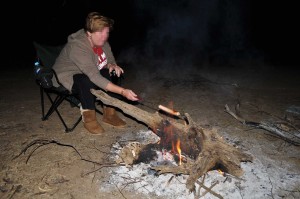 Coffee
There's nothing like freshly brewed coffee by a campfire first thing in the morning. I love to watch the sunrise and have time to myself before everybody else gets up and the day really starts. Just put a stove top percolator straight onto the coals. I also heat my milk in a tin mug then froth it in a plastic milk frother. Real latte is one of my camping luxuries!
Roast lamb
Easier than cooking it at home. Put your roast into the camp oven with a bit of oil, rosemary, garlic and pepper. Or mustard and sage; tandoori paste; or whatever you like. Dig a shallow hole next to your campfire and line it with a thick layer of hot coals. Put the camp oven on the coals and add more coals on top. A camp oven has a recessed lid to stop coals falling off. Then just let it sit. You can also put your vegetables in with the meat, or cook them the same way in another camp oven.
As the coals cool, add more on top. I like to give it a good blast with lots of coals towards the end of the cooking time just to make sure everything is nicely browned.
I've seen somebody do a roast leg of lamb in a very slow campoven (not too many coals) over a few hours. The meat just fell off the bones.
Laksa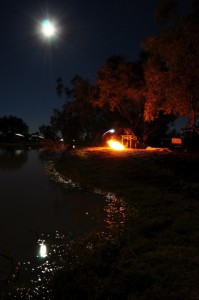 Put your chopped vegetables and thin rice noodles into a pan (I use the camp oven). Add laksa paste, cover with water and stir. Bring to the boil on the coals, then move to the side of the fire to simmer for about 5 minutes. Add coconut cream and stir through. If you want to be really fancy you can add chopped fresh coriander.
Jaffles
Butter 2 slices of bread and put butter side out in a jaffle iron. Add whatever filling you like – baked beans are particularly good – and put it in the fire for a couple of minutes. For breakfast jaffles you can use eggs as a filling – scrambled first or just break the egg straight onto the bread. It's probably wise to cook the bacon first if you want to make a bacon & egg jaffle. As with food on a stick, whoever is eating can cook this one.
Roast vegetables
Individually wrap potatoes, corn cobs, pumpkin pieces, carrots, beetroot, and whatever other vegetables you like in foil. Put in the coals to the side of the fire to cook.
Chocolate muffins
Make up a chocolate muffin or chocolate cake mix (from scratch or use a packet mix).  Cut 4-5 oranges in half and scoop out the fruit leaving the skins intact. Put the cake mix into the orange halves, cover with foil and cook in the coals.
So there you go – breakfast, lunch and dinner all cooked on the campfire. And even a desert!