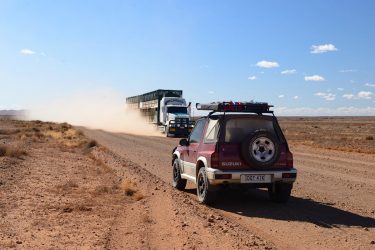 Well, it's happened again. I've had car trouble.
Driving from Coober Pedy to Arkaringa and the Painted Desert, one of the clips holding my back window in place broke. Of course it was the strongest one, the one that holds it all in place. Without that, the clip that holds down the other corner just pops out. So I drove through the dust with my back window flapping in the breeze. Letting in the dust that the car was kicking up behind.
I tried putting the front windows down to get an airflow through the car and push the dust out the back. It didn't work. All I got was a dust storm swirling in front of my eyes. It was a bit cool anyway, so I was happy to put the windows back up and deal with it when I got to my next stop – 45k down the dirt road.
Nope.