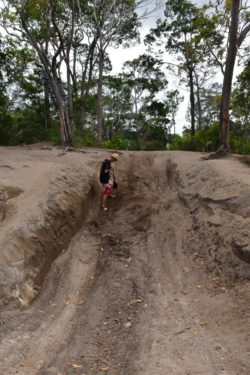 I did Gunshot!
I was on such a high. Gunshot is the stuff of legend. Even the chicken track at Gunshot has a deep, long creek crossing. And even the easier of the 2 exits is steep & rutted. It's not an easy crossing however you do it. The exit took me 2 attempts before I got up.
But I did it!
And of course, once I was out we had to sit around and watch other people do it. It is after all the stuff of legend, and you might get lucky and see somebody try to come down the vertical track. Actually, it's a bit worse than vertical, it tucks under at the top. We got lucky!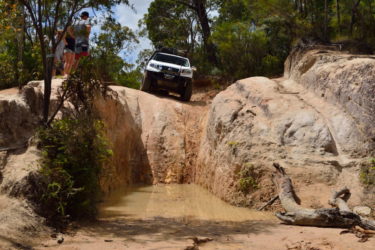 Naturally, it was a young bloke. With no fear, or no understanding of how insurance works. He walked up to it, looked, went "yeah, looks ok", got all his recovery gear ready, and slowly went over the edge. He was very controlled, he inched his way over, very slowly, very controlled. Then he got to the point where gravity just takes over, and he landed with a thud. Straight down.
And got rescued by a Hyundai Terracan driven by a Swedish tourist. Seriously. (video link to come)
This Swedish couple have been on the road for 18 months. We met them on the Tele Track, and kept meeting up with them at different crossings, camped next to them a Nolans, then ran into them again camping at the Tip. They are fascinating. They've driven through Russia, Georgia, Iran, Kazakhstan, Mongolia, and other countries. Now they're in Australia travelling around in "Terry", their Hyundai Terracan. Check out their travels at terryontour.ch or on facebook 'Terry on Tour'. If you see them driving around say hello from me.
But back to the Tele Track.
At Cockatoo Creek we were greeted on the other side of the creek by a group of people on a tag-along tour of the Cape. They'd come in from the top of the southern section of the Tele Track and were camping at Cockatoo Creek to watch the action. It's a rocky crossing, with some deep holes that you have to try to avoid. Not everybody is completely successful in avoiding the holes.
The best way to avoid holes is to have somebody directing you around them. Doc did the honours for me, though I'm not really sure how he knew exactly where I was driving as he walked in front of the car, with his back to me, beckoning over his shoulder. Particularly that last big hole just at the exit. It worked though, I made it across ok.
But with all the people already camping there, that meant another full campsite. As there was only one more creek to do on the southern part of the track we continued, and set up camp just into the northern section right near Fruit Bat Falls so we could go in for a swim in the morning.
Fruitbat and Eliot/Twin Falls have to be two of the most beautiful spots on the Old Tele Track, and easily accessible from the junction even for those who don't want to drive the Track itself. Just onto the northern section of the Track, they are stunning. Beautiful clear water, and safe to swim in. At 8.45am we had Fruit Bat Falls to ourselves for an hour before anybody else came down.
Eliot/Twin Falls was busier, but not overly. You can set up camp there and families with little kids will often camp there for a couple of days so the kids can swim and the parents don't always have to be on high crocodile alert. Though I still managed to get a time when I could photograph the falls with nobody swimming in there.
This is a place that has to be seen to be believed. The photos do not do it justice.