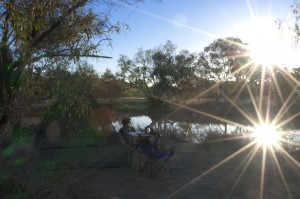 "Everything has to have more than one use" is Doc's mantra when we go camping. He also says that they have to be tough and unbreakable.
I disagree (no surprises there), I have some single use items (and some breakable ones) that are absolutely essential, but which until we started travelling together Doc wouldn't have considered taking camping. One person's trash is another's treasure as they say – if I didn't know Doc would put his foot down, I'd get this camping ice cream maker.
The trick is to work out which single use items are essential to you.
There are some general rules about what to take camping that apply to everybody:
Pack light. This is where Doc's "everything must have at least two uses" comes in. The fewer things you can take with you, the better. And the lighter they are in weight, the better. Exactly what you take will depend on your circumstances, but if you're travelling in a family sedan you're probably better off without heavy cast iron camp cooking gear.
You need shelter. What we take depends on where we're going and how long we'll be out.  Generally Doc and I will take a double swag. Ours has mosquito netting and a canvas cover to keep out the rain. It's a great place to sleep and look at the stars, but not somewhere you can sit and relax. For that we have a pull out awning attached to the side of the car which gives us shade and/or protection from rain. If the weather is particularly bad the awning has attachable sides for protection. When we went to the Cape we swapped the swag for a roof top tent to get us (well, me) up off the ground in croc country. This has more room and privacy than the swag, and one of my favourite things was lying in the tent of a morning, with a cup of coffee, watching the sunrise over our 'balcony' of the roof of the car. When I take people away camping I use a tent, which gives you somewhere to sleep, to store clothes and other personal items, and somewhere to sit if it's raining. The choices are almost endless so don't rush into making a purchase. Talk to experts about what you want to do, where you want to go, and what the best options for you are. If possible, try it out first.
Something to sleep on/in. Both the swag and the roof top ten have proper bedding – sheets and a doona – but when I take a standard tent I take sleeping bags and foam bedrolls. Even if I'm going to the tropics I'll take a sleeping bag – you'd be surprised how cold nights can sometimes get. I also take a sheet for cover if it's too hot for a sleeping bag. My bedrolls are made up of a 3" sheet of foam plus one of egg crate foam. I find the egg crate foam gives it that extra bit of comfort while still keeping it very light and easy to roll up. The foam has removable cotton covers (especially made) so I don't need a sheet to sleep on. And for me wherever I sleep I need proper pillows. If I get a sore neck from sleeping wrong then I'm in a bad mood all day.
Something to cook with. My essentials are a billy, frypan and a big saucepan. The billy also doubles as a saucepan and if I'm only heating up milk for my coffee I use a tin mug. If there's the possibility of a campfire I'll take my camp oven, and because I have a car especially fitted out for it I have a thermal cooking pot, which takes the place of any other saucepans. With this I can start cooking dinner in the morning, stick the pan in the thermal cooker and it's ready for dinner. Easy – especially when you're on the road. You can pull up, set up, and dinner's ready just to be served.
Food. I never do pre-cooked meals when I'm going camping. If you have to heat something up, I find it just as easy to cook it from scratch. As a vegetarian I also take lots of fresh fruit & vegetables so my Bushman's fridge is essential. Unlike the Engel it doesn't freeze the lettuce! If you don't have a fridge but rely on eskies and ice, the less fresh food you take the better, after all you don't want to take up room that can be used for wine! I take basic ingredients – herbs & spices, dried beans, rice, pasta, flour, tinned tomatoes – which I can use to cook whatever I feel like at the time. Cryovacked (vacuum packed) meat will last longer even if it's not frozen, as long as it's still kept cold. Most butchers will cryovac it for you if you ask them.
If you're going off road it's a whole different ball game. You'll need emergency equipment and recovery gear and a basic repair kit, none of which can be addressed in this blog.
So what are my essential single use – and breakable – items?
Real coffee. I take a stove top percolator and milk frother. "Instant" and "coffee" are two words which should never be used in a sentence together.
Wine and champagne glasses. I refuse to drink good wine or champagne (another luxury I take with me in bottles) out of plastic. When not in use I wrap them up in tea towels and pack them away carefully. I still have breakages every trip, but it's worth it.
Coffee mugs. Another one that has to be ceramic or china. I don't like drinking coffee out of plastic or tin. I'll often buy a coffee mug as a souvenir of our trip and use that while we're away.
Camping might be simple and relaxed, but it doesn't have to be completely rough!