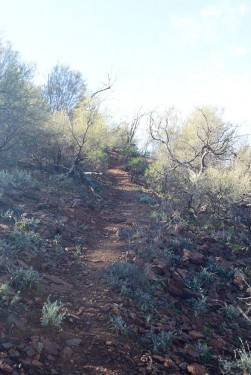 Buns of steel.
That thought is keeping me going up the ridges and rocks on my walks in the Flinders. That and all the people over 60 (and even over 70) who keep passing me.
Stopping to take photos, and to soak in the atmosphere, is my excuse for being slow.
And it's true. To a degree. I'm also not very fit. Going to the gym 3 times a week to get fit before I came away sort of petered out. It was cold and I'd rather stay in bed. Perhaps a fitbit would have helped!
The Flinders Ranges is stunningly beautiful right now. Because of all the recent rain everything is very green, and wildflowers are out everywhere. Wildlife abounds – emus, kangaroos, euros, rock wallabies. And goats of course.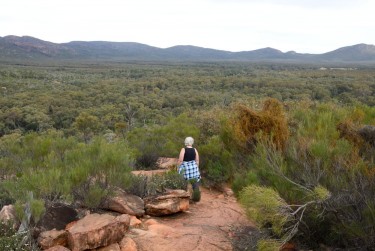 The best way to see all of this is walking.
I've walked along creek beds, up mountains, scrambled over rocks, through gorges, and along mountain ridges (which you have to climb first). All are stunningly beautiful.
My sister and I walked to Blinman Pools and to Wilpena Pound to look out over the pound (where we were overtaken going up a steep incline by a couple in their 70s at least). I've walked along the old (and the new) Ghan tracks, through places in Arkaroola, and on short walks when I've driven through gorges. All are beautiful.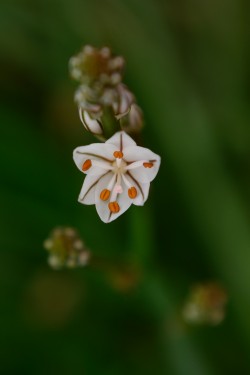 I've written before about Australian wildflowers. Mostly they're not showy. In order to survive in this environment they're usually small and delicate. Sometimes you have to get down to ground level to see them.
So it's lucky that I do stop to take photos, and I do get down to ground level to take them. I would have missed a lot of beautiful flowers if I'd just kept walking.
So I think I will keep on walking slowly. But not because I'm not fit!