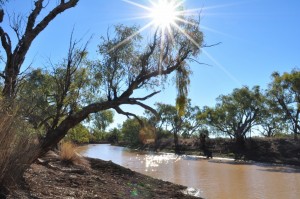 Update:
My apologies, it seems I had the wrong information. Christina McPherson wasn't Banjo Patterson's fiance.
The story is much more interesting than that.
Christina's friend, Sarah Riley, was engaged to Banjo Patterson, and had been for eight years. Right up until he met Christina and collaborated with her on Waltzing Matilda. The engagement was broken off soon after.
You can read more about Christina McPherson and her contribution to Waltzing Matilda here. The rest of the story stands.
For a place that's seared into the Australian psyche, Combo Waterhole is very little known – and very badly signposted.
Hands up if you know where and what it is. If so, you're doing better than I did.
Once a jolly swagman camped by a billabong
According to local legend, that billabong is Combo Waterhole, outside Kynuna in outback Queensland.
I'd never heard of Combo Waterhole until I was in Julia Creek and picked up a brochure – leaflet really, it's not even printed on glossy paper – on Kynuna. We were heading past there on the way to Winton and I wanted to know if there was anything worth stopping to see, and if there was any camping in the area.
The local legend is credible. In the leaflet I read:
The owner of Dagworth Station, Bob MacPherson told Banjo Paterson the story of striking shearer Samuel Hoffmeister's suicide beside the Diamantina ….
It was Christina MacPherson, Paterson's then fiancée who adapted a popular Scottish tune, Craigslea, to become the original music for Paterson's lyrics ….
The turnoff to the Combo Waterhole is from the Matilda (Landsborough) Highway 16 kilometres east of Kynuna and 153 kilometres north of Winton …
The Swagman's Billabong site was made famous in our national folk song 'Waltzing Matilda'.
So we went, and found the – oops, sorry, wrong poem.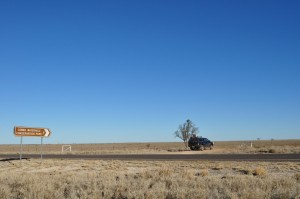 We almost didn't find the billabong at all. The signposting is very poor. It's just a street sign really, pointing down a dirt track. It says "Combo Waterhole". Nothing about "Centrepoint of the Australian psyche", nothing even about "site of Banjo Patterson's poem Waltzing Matilda". Just "Combo Waterhole".
Further down the track is another sign "Combo Waterhole 2 miles. Original Cobb & Co Mail Change. Scene of Banjo Patterson's Waltzing Matilda". That's how long they've known out here the importance of the site – when was the last time you saw a signpost in miles???
So we went, and found the ... No, sorry, wrong poem again.
Under the shade of a coolibah tree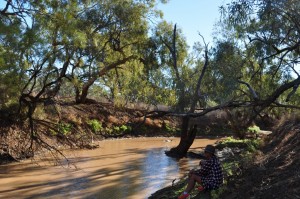 Back in the late 1800s they built stone walls across the channels of the Diamantina to hold in the water (hence the phrase stonewalling??? Can anybody give me any information on that?). It resulted in permanent waterholes, or billabongs, that lasted even through drought, one of which is Combo Waterhole.
Any waterhole up here has trees, even dry creek beds are lined with trees. Combo waterhole is surrounded by many coolibah trees, and of course I had to take my photo sitting in the shade of a coolibah tree. Wouldn't you?
And his ghost may be heard as you pass by that billabong
It is a beautiful waterhole, made more beautiful by the fact that very few people know about it and visit it. That means the banks are still intact, there's no rubbish, and animals still come down to have a drink. It's quiet and peaceful. But though I tried, and sat beside the billabong drinking in the atmosphere, I didn't hear or feel any ghosts.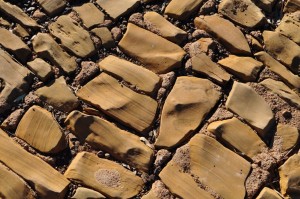 And if the person who can hear Uluru humming can't hear ghosts at the billabong, then there aren't any there. Or maybe my special psychic powers are limited to rocks rather than billabongs? Who knows, though after reading my Uluru blog Doc commented that the humming sound I heard was the voices in my head rather than in the rock. I guess the voices don't talk to me at billabongs!
And really – I don't care whether it's the real waterhole or not. Poetry is poetry after all, not fact. I'm sure there is some truth in it, and the Banjo took a number of stories and melded them together to come up with Waltzing Matilda. Maybe he even wrote it sitting by Combo Waterhole. It's a great poem (and song), and the link to Combo Waterhole is a great story.
And Combo Waterhole is a beautiful billabong surrounded by coolibah trees, where animals come to drink in the cool of the morning and evening light. And where there really are jumbucks – the only ones we'd seen for a long time.
Personally, I hope it stays a secret.