One of the best things about going on holidays is thinking about where to go. And while doing that, looking back on where you have been.
Should I go somewhere completely new? Or go back to somewhere I really enjoyed before?
Parachilna or Woomera? Uluru via Oodnadatta, or the Simpson?
Australia is such a vast country that you can travel for years and not see it all. Or you can go back to familiar places via a new route. Some places just keep drawing you back.
Here are my top five places to visit again, all of which, except Uluru, are not on the main tourist lists:
Uluru, Northern Territory
No visit to Australia is complete without experiencing Uluru. Amost in the centre of Australia, and a central part of the dreaming, Uluru, for me, is number one on the list of places to go.
Words cannot describe the experience of Uluru. It is far more than a big rock in the desert. It feels alive, and if you put your ear against it you can hear it humming.
You cannot stay at the rock itself. Uluru Resort, with everything from camping to luxury accommodation, is 15km away just outside the national park.
I recommend spending at least a full day there. The couple of hours a lot of the tours give you is not enough to really experience the rock. It took me almost 6 hours to walk around Uluru, and then there was the sunrise, the sunset, and a couple of trips back to the waterholes to just sit, watch, and listen.
Eulo, Queensland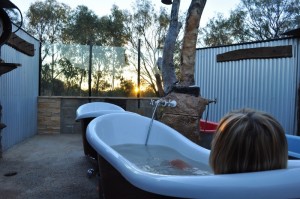 Eulo is a very small town just west of Cunamulla in outback Queensland, on the Paroo River. It is also on top of the Great Artisian Basin, and beside the mud springs where the hot water from the basin occasionally comes to the surface. And that is what makes Eulo so special.
With a population of only 50 people, Eulo really punches above its weight in the "must experience" stakes. The main reason for this is the mud baths, and particularly the sunset bath.
If you're anywhere north (well, depending on where you are and where you're coming back to), then it's simple to plot a return route via Eulo, so it's highly likely I will be going back there next trip. The only reason I missed out last trip was because my very pregnant daughter was having a few problems (all is OK now, thanks). It is a fabulous way to wash away the dirt from a camping trip, or have a pamper session either alone, as a couple, or with friends. Sitting in the mud bath and watching the sunset, then watching the stars all appear in the darkening sky is sublime.
You can camp by the river and catch your own dinner, or you can stay, or just eat, at the pub. Last trip I sat in the pub with the owner and watched a Bledisloe Cup game over dinner and a decent wine.
Parachilna, South Australia
Specifically the Parachilna Pub, aka the Prairie Hotel.
At only 5 1/2 hours drive from Adelaide, in the Flinders Ranges, it's close enough for a weekend away, but also far enough that it's still an outback pub. But one with a difference.
Being situated beside the Old Ghan track, with wide open spaces looking towards sunset in front, and the Flinders Ranges behind, would normally be enough. Add in dinosaur fossils, one of the best pub menus I have ever seen, and a fabulous wine list and it really is a must stop place. Which of course brings lots of people to visit so an ever changing group of people to yarn with in the front bar of the pub, or on the front verandah while watching the sunset.
You can camp in the grounds just by the pub and enjoy a communal campfire, or you can stay at the beautifully renovated rooms in the pub itself.
And, of course, there's the Flinders Ranges just behind to explore.
East McDonnell Ranges, Northern Territory
The 'poor cousin' of the vastly more visited West McDonnell Ranges, I prefer the east Macs. They are just as beautiful as the west, and much, much, quieter (except during the 3 day Wide Open Space music festival at Ross River).
Like the Flinders, the rocks in the McDonnell Ranges (east and west) are amazing colours. I think even more so. They reflect the changing light of the sun, and at both sunrise and sunset are stunningly beautiful.
Last time I was in the east Macs it was in a 2WD vehicle. A very competent 2WD, but still … there were places I was just not game to go. 
There are a few places to stay in the East Macs depending on the level of luxury required, the adventuressness  (I don't care if that's a made up word, I like it) of your spirit, and the capability of your car.
I definitely need a trip back there, even if it's just to visit those places I missed last time.
Julia Creek, Queensland
I don't know what it is about Julia Creek, but it's one of those places that just seems to get into your blood (well, mine at least).
There is the Dirt 'n Dust festival every April, but I've never been there at the right time of year for that one. There's also a lot to explore around Julia Creek, including the Saxby round-up, and THE billabong
But it's Julia Creek itself that somehow draws me back. I was a bit nervous visiting the second time, thinking that maybe it wouldn't live up to the memory. It was better.
There's free camping beside the creek just outside of town (within easy walking distance), and an assortment of accommodation in the town itself. And if everything is right, you an even catch crays in the creek.
Of course, there are a lot more, but I also like to see and do new things. So this time, it's the Simpson Desert for me. But I can still go via Parachilna (or Woomera??), and come back via Eulo.